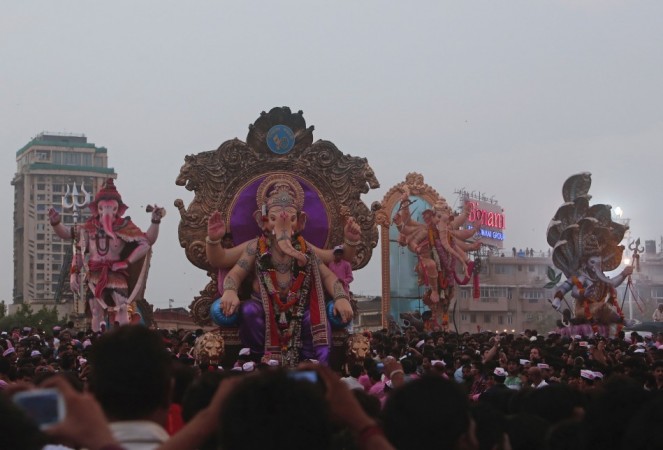 The 10-day long Ganesh Chaturthi festival is all set to begin in India. And now, with just two days to go, festival fervour has gripped the country once again.
The festival, which is mainly observed in Maharashtra, Gujarat and South India, mostly falls in the month of September. But this year, it will start from 29 August and will end on Ananta Chaturdasi, i.e. on 8 September.
Ganesh Chaturthi is also called as Vinayak Chaturthi, and it marks the birth of Lord Ganesh, the elephant-headed Hindu god of wisdom and prosperity - the son of Lord Shiva and Goddess Parvati.
Origin
According to Hindu mythology, one day Parvati was at home on Mount Kailash, preparing for a bath. She did not want to be disturbed but there was no one to guard the door. So taking the turmeric paste used for bathing, she created a boy and infused life into him. Parvati declared him as her own son and then asked the boy to guard the door and not to allow anyone to enter the house while she was taking bath.
But when Shiva came home and tried to enter, the boy told him he cannot enter his house. The boy and Shiva then had an argument, which eventually infuriated the god. Shiva cut off the boy's head with his trishul, killing him instantly. But when Parvati came to know about this, she became so enraged that she decided to destroy the entire universe.
Lord Brahma, the creator, tried to reason with Parvati but she insisted that for her to reconsider the decision, Shiva should bring back the boy to life and he should be worshipped like other gods. Shiva agreed to Parvati's conditions but he needed a new head to bring the boy back to life. He asked Brahma and the other gods to bring back the head of the first creature he crosses with its head facing North. They brought back the head of a mighty elephant, which Shiva placed on the boy's body and brought him back to life.
The boy was named Ganesh. Shiva declared him as own son as well, and gave him the status of gods.
How is Ganesh Chaturthi celebrated in India?
Pandals (tents) are set up in almost every locality for 10 days to celebrate the festival on a grand note. Prior to the festival, houses are cleaned and special food, including delicious sweets, are prepared for the occasion.
On the first day, people bring in clay models of Lord Ganesh and place it in their homes and pandals. For 10 days, special prayers, songs and devotional chantings are performed.
For 10 days, the Ganesh idols will be worshipped and on 11th day, the idol will be immersed in a river or sea, which is called as Visarjan.