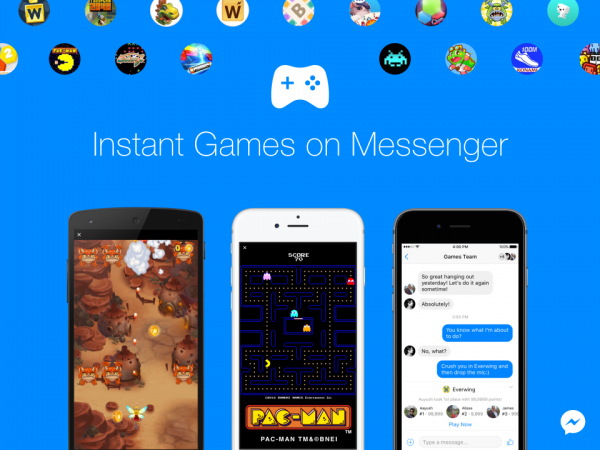 Ever run out of topics to discuss with your friends? Well, Facebook is here at rescue.
You can keep your conversations fun and engaging with Facebook's new instant games that can be played with your friends on the world's largest social networking site's News Feed and Messenger app. The social networking giant has introduced 17 cross-platform games for a billion users who use Messenger every month.
You have to tap the game controller icon in the Messenger to choose a game and start playing it. There are games you've at least played once or more depending on your interest, but the PAC-MAN, Galaga and Space Invaders steal the show here. That's correct! You can play the dot-eating smileys while escaping the tiny monsters game right within your Messenger and also challenge your friends to it.
Other games are exciting as well. Take the challenges from your friends and beat them at EverWing, SPACE INVADERS, TRACK & FIELD 100M, Galaga, Arkanoid, Shuffle Cats Mini, Words with Friends: Frenzy, HEX, Endless Lake, Templar 2048, The Tribez: Puzzle Rush, 2020 Connect, Puzzle Bobble, Zookeeper, Brick Pop and Wordalot Express.
The HTML5 cross-platform gaming experience on Messenger and Facebook News Feed is a closed beta for now and available on the latest versions of Android and iOS. More games are expected to be added to the platform soon.
Facebook has started rolling out the new gaming experience in 30 countries, including Norway, Denmark, Switzerland, Sweden, Great Britain, Canada, United States, Japan, Netherlands, Australia, Austria, Latvia, Germany, Ireland, Belgium, New Zealand, France, Singapore, Finland, Hong Kong, Russian Federation, Estonia, Taiwan, Slovenia, Puerto Rico, Cyprus, Israel, Lithuania, Spain, and Italy.