After last week's fiery and bombastic episode and this week's informative episode, HBO has dropped the trailer for the penultimate episode of season 7. And, it seems like the upcoming episode is going to be more intriguing than The Spoils of War.
Although the title of the episode is not revealed yet, the episode will be heavy action-packed one. in the short trailer, we see that Jon Snow and his troops are going after the white walkers to accomplish their master plan. And, their master plan sounds pretty unbelievable as they intend to catch a white walker (REALLY).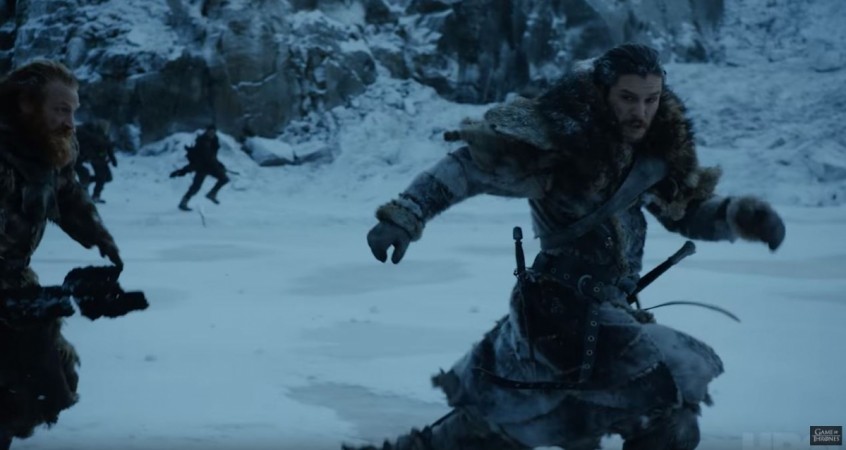 Also read: Watch Game of Thrones season 7 episode 5 live online: 'Eastwatch'
"Death is the enemy. The first enemy and the last. The enemy always win. And we still need to fight it," Beric Dondarrion tells Jon Snow.
In between, we get a quick glimpse of Daenerys and Tyrion and certainly, some tension is there. Has Tyrion told Daenerys yet that she is showing all the signs of becoming a mad queen like his father Aerys Targaryen?
Moving to Winterfell, Arya's relationship with her big sister Sansa Stark is becoming very icy as days pass by. Arya asks Sansa "You're scared, aren't you? What are you scared of?"
But the most significant part of the episode will be when Jon Snow and his crew battling against the Night king and his armies. Unfortunately, not every one of Jon Snow's crew will be alive after the clash with the icy enemies (spoiler!).
Watch the preview of Game of Thrones season 7 episode 6 below.
Meanwhile, let's look back at episode 5 of Game of Thrones season 7, Eastwatch, which is being called as one of the most enjoyable yet earth shattering episodes of the season so far. If last week's episode was massive, then this week can easily be called as most interesting, revelatory, and informative.
So, Robert Baratheon bastard son Gendry is back! Cersei is expecting her fourth child as she murmurs in Jaime's ear, "I'm pregnant!" Oh, did I tell you Jaime is alive and come back to the King's Landings?
Let's get back to Citadel as the episode's most significant information has been confirmed by Gilly. She discovers that Rhaegar Targaryen annulled his previous marriage and got lawfully married to Ned Stark's sister Lyanna Stark. Hence Jon is not a bastard anymore but the rightful heir to the Iron Throne and the Seven Kingdoms (who is far, far better than the mother of Dragons).
However, as we have seen in the previous episode that Jorah Mormont is fully recovered from Greyscale, thus he finally reunites with Dany.
To know more, catch up with the season 7 of Game of Thrones. Also, we will have more on all of this soon.
The penultimate episode of Game of Thrones season 7 will be aired August 20 on HBO and HBO Canada at 9 pm ET. Indian viewers can watch it on Hotstar on Monday (August 21) at 7.30 am IST and Tuesday (August 22) on Star World. Apart from that, one can watch it on HBO Now, Hulu, Sling TV live online.