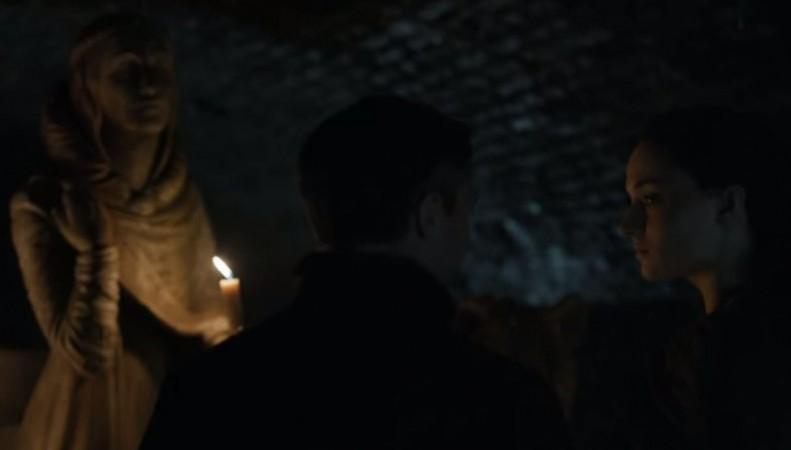 The "R+L+ J" theory has been on the back of every "Game of Thrones" fan for quite some time now. Episode after episode, especially in Season 5, we waited for the showrunners to address Jon Snow's parentage; however, the makers refrained from revealing the same and Jon Snow's death only triggered more fan theories like the supposed change in Jon's eye colour.
Now, a new filming location for Season 6 has been revealed by HBO, and with it, our questions may finally be answered. One of the filming locations of "Game of Thrones" is Castillo de Zafra in Guadalajara, Spain, which is very similar to the Tower of Joy from "GoT" books.
According to RR Martin's books, Tower of Joy is where Lord Eddard Stark (Sean Bean) found his sister Lyanna in a pool of blood. Ned makes her a promise before she dies, but this is shown in Ned's dream and he wakes up before revealing the promise.
The theory "R+L=J" theory was born from this storyline. Elaborately speaking, the pool of blood was a result of childbirth. This nephew, fathered by Prince Rhaegar Targaryen, would have been slaughtered by Robert Baratheon (Mark Addy), and fearing this, Ned promised his sister that he would raise his nephew as his bastard son, Jon Snow. The believers of this theory claim that born half-Stark (cold, snowy North) and half-Targaryen (fire-breathing dragons), Jon Snow is literally the song of ice and fire.
Another reason to believe Jon Snow's parents will be revealed in Season 6, is a recent casting call for a "Legendary Fighter", and who is more legendary and a greater fighter than Ser Arthur Dayne? This "paragon of knighthood" was among the three members of the kingsguard that Ned encountered with when he arrived at the Tower of Joy to rescue Lyanna.
'Game of Thrones' Season 6 Spoilers: New Characters Cast, Did Jon Snow's Eyes Change Color?
In Season 5, too, Lyanna and her "abduction" was addressed, when Littlefinger (Aidan Gillen) and Sansa (Sophie Turner) interacted in the Crypts of Winterfell, where stands the statue of her aunt Lyanna. Lord Baelish holds a knowing and secretive smile when Sansa mentions that Rhaegar Targaryan "chose" her aunt before "abducting and raping" her.
Meanwhile Carice Van Houten, who plays the Red Priestess Melisandre, has been hinting at bringing Jon Snow back to life. "You feel that she is concentrating more and more towards Jon Snow ... there are slight hints that something's going to happen," she had said.
'Game of Thrones' Season 6 Spoilers: Melisandre on Jon Snow's Return, New Characters Revealed
If these theories are true, then one of the most vivacious fan-fictions of Jon (Targaryen) and Daenerys Targaryen aka Khaleesi aka Mother of Dragons (Emilia Clarke) ruling the seven kingdoms could become a "Game of Thrones" reality very soon. After all, blood is thicker than water.