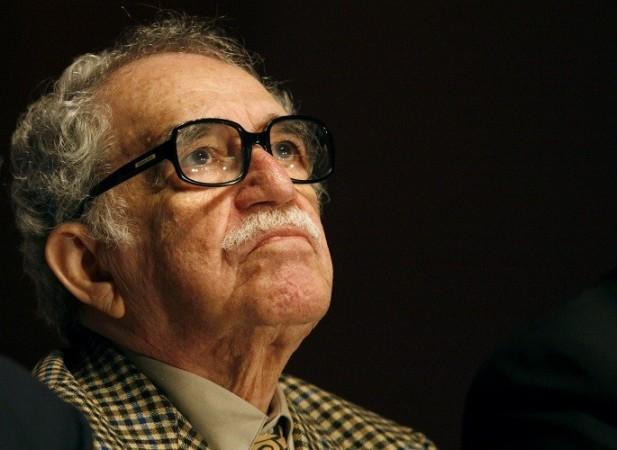 Spanish literature giant, Gabriel Garcia Marquez, exponent of magic realism and author of the masterpiece, "One Hundread Years of Solidute" left his mortal remains on 17 April at the age of 87. He died at his home in Mexico City.
His death was confirmed by his former editor at Random House, Cristóbal Pera, The New York Times reported. He was suffering from lymphatic cancer and according to his brother Jaime García Marquez he also had senile dementia. However, the cause of his death is not known.
Marquez, who began his writing career as a journalist, then transforming himself into a novelist, screenwriter, playwright and memoirist became an icon of Latin America He was one of the rare writers who joined the ranks of Tolstoy, Hemingway among others who was accepted by critics and had a massive readers base.
Marquez, who was called affectionately as 'Gabo' was an exponent of magic realism in his works that intertwined elements of reality and magic.
Some of recurring themes in his works were solitude, love, death, Macondo town, violence (La Violencia) and power.
But it was his novel, "One Hundred Years of Solitude" that catapulted him to the world stage. This masterpiece speaks about the Buendia family set in the town of Macondo. The book captured imagination (social, economic and political) of the Latin American countries through the story of Macondo as he carefully fused magical elements with reality, giving dynamism to mundane things in the novel.
The book has been translated into more than 35 languages around the world and has sold more than 50 million copies.
Pablo Neruda, the outspoken poet and Nobel Laureate said on the book, that it was "the greatest revelation in the Spanish language since the Don Quixote of Cervantes."
Marquez was awarded with the Nobel Prize in Literature for his novel, "One Hundred Years of Solitude" in 1982. He had created, "a cosmos in which the human heart and the combined forces of history, time and again, burst the bounds of chaos," said the Nobel committee when honoring him with the award.
Marquez was known to be close with the Cuban leader, Fidel Castro who was lucky enough to read his drafts even before they got published. He opposed the right-wing dictator, Augusto Pinochet, who was the president of Chile for 16 years. Marquez was not allowed in the U.S. until former president, Bill Clinton ascended the presidency, who befriended Marquez. He was also close to François Mitterrand, former president of France.
Marquez is survived by his wife, Mercedes and two sons, Rodrigo and Gonzalo.
World Reaction on His Death:
"A thousand years of loneliness and sadness for the death of the greatest Colombian of all time!" said Juan Manuel Santos, Colombia president.
"With the passing of Gabriel Garcia Marquez, the world has lost one of its greatest visionary writers - and one of my favorites from the time I was young ... I offer my thoughts to his family and friends, whom I hope take solace in the fact that Gabo's work will live on for generations to come," said Barack Obama, the U.S. president.
"One would really have to go back to Dickens to find a writer of the highest literary quality who commanded such extraordinary power over whole populations," said Ian McEwan, British novelist to the BBC.
"From the time I read 'One Hundred Years of Solitude' more than 40 years ago, I was always amazed by his unique gifts of imagination, clarity of thought, and emotional honesty ... I was honored to be his friend and to know his great heart and brilliant mind for more than 20 years," said Bill Clinton, the former U.S. president.
"Gabo's death is a loss for Colombia and for the entire world. His work will safeguard his memory," tweeted The Revolutionary Armed Forces of Colombia, the largest rebel group in Columbia, said in a tweet.
Top 5 Works of Gabriel Marquez:
"One Hundred Years of Solitude" (1967)
"The Autumn of the Patriarch" (1975)
"Love in the Time of Cholera" (1985)
"The Story of a Shipwrecked Sailor" (1955)
"The General in His Labyrinth" (1989)
Top 10 Quotes of Gabriel Marquez:
1. "What matters in life is not what happens to you but what you remember and how you remember it."
2. "But if they had learned anything together, it was that wisdom comes to us when it can no longer do any good."
3. "I don't believe in God, but I'm afraid of Him."
4. "All human beings have three lives: public, private, and secret."
5. "Sex is the consolation you have when you can't have love."
6. "No, not rich. I am a poor man with money, which is not the same thing."
7. "It is not true that people stop pursuing dreams because they grow old, they grow old because they stop pursuing dreams."
8. "I've always been convinced that my true profession is that of a journalist."
9. "I discovered to my joy, that it is life, not death, that has no limits."
10. "It's enough for me to be sure that you and I exist at this moment."
Ed: AJ)