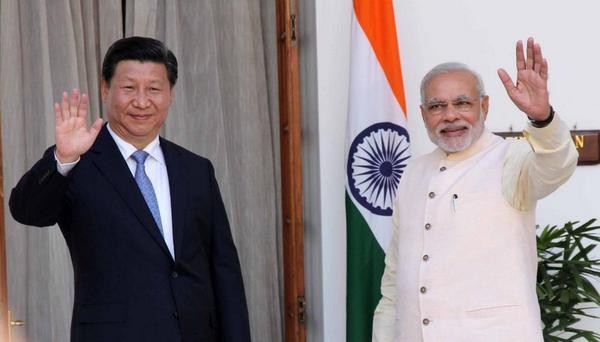 Prime Minister Narendra Modi discussed various issues with Chinese President Xi Jingping, including the China-Pakistan Economic Corridor (CPEC) that runs through Pakistan-Occupied Kashmir (PoK), at his first bilateral meeting on Sunday ahead of the G20 Summit.
"Our response to terrorism should not be motivated by political considerations... To ensure durable ties, and their steady development, it is of paramount importance to respect each others' aspirations, concerns and strategic interests," Modi is believed to have told Jinping, according to local media reports.
"It was a 35-minute meeting. If you read between the lines, China is not unaware of our concerns, strategic interests. This was like a summit-level meeting, meant to provide high-level guidance and direction," the MEA spokesperson told reporters.
CPEC has been an area of concern since it is a source of terror threat for India along the borders. Besides CPEC, China has been opposing India's entry to the Nuclear Suppliers Group (NSG) and has also stalled the country's bid to list Jaish-e-Mohammad chief Masood Azhar as a terrorist at the United Nations.
"Terrorists in South Asia, or anywhere for that matter, do not own banks or weapons factories. Clearly, someone funds and arms them," PM Modi said at the BRICS leaders' meeting later without naming any particular country. He further asked BRICS to strengthen efforts to fight terror and coordinate actions to isolate those who support and sponsor terror, the Indian Express reported.
"China is willing to work with India to maintain their hard-won sound relations and further advance their cooperation," Jinping was quoted by Xinhua news agency as saying. The Chinese president added that both the countries should respect and care for each other on major issues and handle differences constructively.
He further added that the relationship between India and China had seen a healthy, stable and speedy development and that high-level exchanges on issues of common interest between both the countries should continue as neighbours and developing countries to enhance understanding and trust.
According to Xinhua, Jinping was of the opinion that India and China should handle differences constructively and that he would continue to encourage Chinese companies to invest in India. He added that China would cooperate with India in contributing to the world economic growth and governance within the G20 framework. China would also support India's efforts to host the eighth BRICS Summit.
"In order to promote positive convergences, we will need to prevent growth of negative perception. For this, the specific actions by both countries will play a major role. India has worked to make progress in a closer developmental partnership with China. In particular, he (the Prime Minister) highlighted that we have succeeded in maintaining peace and tranquillity on the border. The cultural and people-to-people ties have also been increasing," MEA spokesperson quoted Modi as saying.
"Our peoples also have the expectation that we make every possible effort to fulfil the dreams of development, progress and prosperity... The partnership is important not only for the two countries but for the entire region and world," PM Modi said.