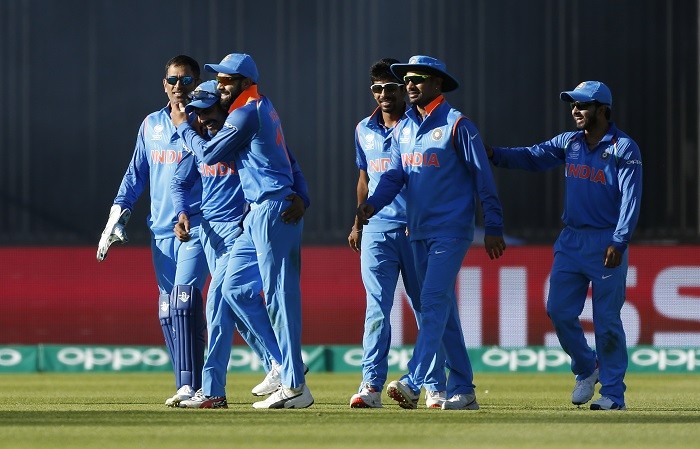 The Board of Control for Cricket in India (BCCI) has released the details of payments (Rs 25 lakh above) made to cricketers, coaches, state associations and others during the month of October.
Indian team members, who finished runners-up to Pakistan in the ICC Champions Trophy 2017 in June in England, received Rs 38.67 each as prize money.
On October 17, captain Virat Kohli and his 14 teammates received the Champions Trophy prize money share from the Indian cricket board. India lost the final to Pakistan by 180 runs at The Oval on June 18.
Indian team's head coach Ravi Shastri and bowling coach Bharat Arun were paid their salaries. Shastri received a payment of Rs 2.02 crore while Arun got Rs 26.99 lakh.
Shastri's salary of Rs 2 crore plus was for a period of three months from October 18, 2017 to January 17, 2018.
Among other payments, former India paceman Lakshmipathy Balaji got a one-time benefit of Rs 50 lakh. All these details were uploaded on Indian cricket board's website bcci.tv.
Indian Premier League (IPL) franchise Royal Challengers Bangalore (RCB) received Rs 19.44 crore as a share of revenue from this season's Twenty20 tournament.
Details of payments made above Rs. 25 Lakh during the month of October 2017
| | | | |
| --- | --- | --- | --- |
| Date | Party Name | CHQ./RTGS Amt.in INR | Particulars |
| 16.10.2017 | Yourself for GST | 5757,48,755.00 | GST Payment for the month of September 2017 for BCCI Maharashtra |
| 10.10.2017 | Royal Challengers Sports Pvt Ltd | 1944,00,000.00 | Share of NCR - IPL Season 2017 - 3rd Installment |
| 05.10.2017 | Yourself for Income Tax | 827,01,614.00 | TDS for the month of September 2017 |
| 23.10.2017 | Yourself for Service Tax | 229,67,659.00 | Service Tax payment of Hyderabad Cricket Association |
| 27.10.2017 | Ravi Shastri | 202,50,000.00 | Professional fees for Head Coach of Indian team for the period 18.10.17 to 17.01.18 |
| 12.10.2017 | Jet Airways (India) Ltd. | 185,88,621.00 | Advance payment towards chartered flights for Ind vs SL series during Nov-Dec 2017. Proforma Inv No. BOM2017/CH/052. |
| 27.10.2017 | Madhya Pradesh Cricket Association | 174,00,000.00 | Advance agst amount due to association-MPCA-Hosting Fees - India Vs Australia (ODI) 24th Sep 2017 @ Indore vide Inv no 29 dtd 24th October 2017 |
| 27.10.2017 | The Cricket Association of Bengal | 174,00,000.00 | Advance agst amount due to association-CAB- Hosting Fees - India Vs Australia (ODI) 21st September 2017 @ Kolkatta vide Inv no CAB/9/17-18 dtd 13th October 2017 - |
| 27.10.2017 | Vidarbha Cricket Association | 174,00,000.00 | Advance agst amount due to association- Hosting Fees of India Vs Australia (ODI) 1st October 2017 @ Jamtha Stadium , Nagpur vide Inv no 9 dtd 4th October 2017 (NEFT rejected on 27.10.2017) |
| 13.10.2017 | Baroda Cricket Association | 89,30,871.00 | Reimbursement of Match fees, subsidies and expenses of Ranji Trophy 15-16 Inv No 1 app by BCCI/HQ/49(P&R)/3281/2016 Hon Sec List 73-46 |
| 10.10.2017 | Andhra Cricket Association | 56,12,244.00 | Reimbursement of Inter Zonal Tournament U19(Girls) Expenses held at Guntur (2016-17) |
| 25.10.2017 | Andhra Cricket Association | 54,86,954.00 | Reimbursement of Expenses pertaining to ZCA U19(Boys)-South Zone Camp -2016-2017 |
| 23.10.2017 | Andhra Cricket Association | 54,55,928.00 | Reimbursement of expenses for NCA U19 Womens Camp of 2016 |
| 13.10.2017 | Baroda Cricket Association | 53,77,596.00 | Reimbursement of Match fees, subsidies and expenses of C K Nayudu Trophy 15-16 Inv No 3 app by BCCI/HQ/49(A)/3279/2016 Hon Sec List 73-47 |
| 09.10.2017 | Andhra Cricket Association | 52,61,154.00 | Reimbursement of Inter Zonal Tournament U19(Girls) Expenses held at Guntur (2016-17) |
| 13.10.2017 | Lakshmipathy Balaji | 50,00,000.00 | One time benefit |
| 24.10.2017 | Trade Wings Ltd. | 46,14,434.00 | Balance 50% amount plus additional cost of change in sector for India tour to SA. Proforma Inv No. 00000006. |
| 16.10.2017 | Zoom Communications Ltd. | 39,31,200.00 | 1st 50% of Broadcast Production services for coverage of Digital Production for 2017-08. Inv.No.ZCL/2017-18/032 (BCCI/153/2017) |
| 17.10.2017 | Jasprit Bumrah | 38,67,704.00 | Prize money for ICC CT 2017 |
| 17.10.2017 | Umesh Yadav | 38,67,704.00 | Prize money for ICC CT 2017 |
| 17.10.2017 | Rohit Sharma | 38,67,703.00 | Prize money for ICC CT 2017 |
| 17.10.2017 | Ajinkya Rahane | 38,67,703.00 | Prize money for ICC CT 2017 |
| 17.10.2017 | Yuvraj Singh | 38,67,703.00 | Prize money for ICC CT 2017 |
| 17.10.2017 | Shikhar Dhawan | 38,67,703.00 | Prize money for ICC CT 2017 |
| 17.10.2017 | Ravichandran Ashwin | 38,67,703.00 | Prize money for ICC CT 2017 |
| 17.10.2017 | Kedar Jadhav | 38,67,703.00 | Prize money for ICC CT 2017 |
| 17.10.2017 | Hardik Pandya | 38,67,703.00 | Prize money for ICC CT 2017 |
| 17.10.2017 | Dinesh Kartik | 38,67,703.00 | Prize money for ICC CT 2017 |
| 17.10.2017 | Virat Kohli | 38,67,703.00 | Prize money for ICC CT 2017 |
| 17.10.2017 | Ravindra Jadeja | 38,67,703.00 | Prize money for ICC CT 2017 |
| 17.10.2017 | Mahendra Singh Dhoni | 38,67,703.00 | Prize money for ICC CT 2017 |
| 17.10.2017 | Bhuvneshwar Kumar | 38,67,703.00 | Prize money for ICC CT 2017 |
| 17.10.2017 | Mohammad Shami | 38,67,703.00 | Prize money for ICC CT 2017 |
| 11.10.2017 | Trade Wings Ltd. | 33,00,000.00 | 50% advance towards India tour to England June 2018. Proforma Invoice No. 171011 |
| 16.10.2017 | Zoom Communications Ltd. | 30,54,240.00 | Zoom Engineers fees for Australia Series Sep-Oct 2017. Inv.No.ZCL/2017-18/030. (BCCI/151/2017) |
| 11.10.2017 | Trade Wings Ltd. | 30,23,349.00 | Cost of air tickets issued to match officials, auditors, office bearers, players, New Zealand recce team, selectors etc. during period 01/09 to 07/09. Inv No. BCCI/17/09/1021, BCCI/17/09/1022 (BCCI/HQ/22(B)/3009/2017, BCCI/HQ/22(B)/3001/2017) |
| 09.10.2017 | Uttar Pradesh Cricket Association | 29,94,992.00 | Reimbursement of U19(Boys) Zonal Camp Expenses - Central Zone held at Kanpur (2015-16) |
| 09.10.2017 | Mumbai Cricket Association | 29,42,005.00 | Reimbursement of U19(Boys) Zonal Camp Expenses - West Zone held at Mumbai (2016-17) |
| 05.10.2017 | Korn/Ferry International Pvt Ltd | 28,78,848.00 | First Instalment of professional fee for services rendered in conjunction with assignment of Director-NCA & GM/AGM Marketing & Communications as per Inv No 369100048 & 3691000047 |
| 09.10.2017 | Odisha Cricket Association | 28,42,682.00 | Reimbursement of U19(Boys) Zonal Camp Expenses - East Zone held at Bhubaneshwar (2016-17) |
| 13.10.2017 | Trade Wings Ltd. | 27,47,672.00 | Cost of air tickets issued to BCCI officials, COA, anti doping and anti corruption officials, auditors, India A team, selectors etc. during period 08/09 to 15/09. Inv No. BCCI/17/09/1025 (BCCI/HQ/22(B)/3112/2017) |
| 09.10.2017 | Bharathi Arun | 26,99,999.00 | Professional fees for Bowling Coach of Indian team for the period 15.07.17 to 31.08.17 as per Letter No BCCI/HQ/47(V)/3111/2016 |
| 12.10.2017 | ITC Ltd - My Fortune Bengaluru | 26,27,624.00 | Stay Charges of NCA U16 Boys Camp-Batch 2 |
Foreign payments
| | | | |
| --- | --- | --- | --- |
| Date | Party Name | Amount in INR | Particulars |
| 26.10.2017 | CRICKET AUSTRALIA | 275,00,000 | BEING PAID TO CRICKET AUSTRALIA TOWARDS ADHOC AMOUNT OF RELEASE FEES FOR IPL 2016 (USD 424382.72 EQUIVALENT TO INR 27500000) |
| 26.10.2017 | SPORTZPICS | 28,01,355 | BEING PAID TO SPORTZPICS TOWARDS 30% PHOTOGRAPHIC COVERAGE FOR IPL 2017 AS PERB INV NO SPCS20170518 (USD 43230.79 EQUIVALENT TO INR 2801355) |
| 26.10.2017 | PULSE INNOVATIONS | 55,67,622 | BEING PAID TO PULSE TOWARDS RECHARGES OF HOSTING AND CDN FEES FOR THE MONTH OF JUNE 2017 AS PER INV NO 877 (GBP 64696.48, USD 85949.27 * 64.778) |
| 26.10.2017 | SPIDERCAM GMBH | 54,35,936 | BEING PAID TO SPIDERCAM TOWARDS SPIDERCAM SERVICES FOR AUSTRALIA TOUR TO INDIA 2017 AS PER INV NO 151.17 (EUR 78679.20 LESS TDS 10% EUR 7869.72 NET EUR 70827.48, USD 83916.39 * 64.778) |
| 26.10.2017 | PULSE INNOVATIONS | 26,17,700 | BEING PAID TO PULSE TOWARDS IPL WEBSITE DESIGN AND MAINTENANCE FEE FOR THE PERIOD APRIL 2017 TO JUNE 2017 AS PER INV NO 882 (GBP EQUIVALENT TO INR 2617700) (USD 40315.48) |
| 26.10.2017 | PULSE INNOVATIONS | 31,74,800 | BEING PAID TO PULSE TOWARDS BCCI WEBSITE DESIGN AND MAINTENANCE FEE FOR THE PERIOD JUNE 2017 TO AUGUST 2017 AS PER INV NO 883 (GBP EQUIVALENT TO INR 3174800) (USD 48895.44) |
| 26.10.2017 | PULSE INNOVATIONS | 167,65,049 | BEING PAID TO PULSE TOWARDS REIMBURSEMENT OF HOSTING & CDN SERVICES FEE FOR THE PERIOD APRIL TO MAY 2017 AS PER INV NO 876 (GBP 194812.02, USD 258807.76 * 64.778) |