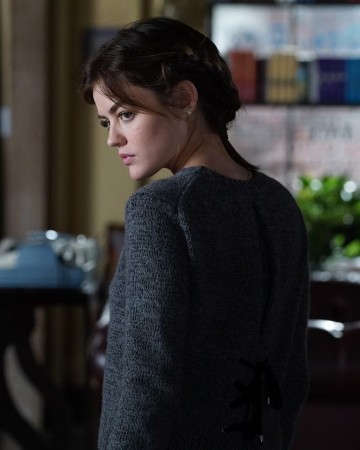 "Pretty Little Liars" star Lucy Hale appears to be growing apart from her co-stars Troian Bellisario, Shay Mitchell and Ashley Benson, sparking speculations that all is not well between the girls.
Analysing the social networking accounts of Bellisario, Mitchell and Benson, J-14 Magazine reported that the girls are constantly posting pictures of them together, but Hale does not seem to be a part of the group.
A Crushable report too noted that the other three girls have been giving Hale the cold shoulder, and this even led to the emergence of #pllhateslucyhale on Twitter.
They've been posing together at "Pretty Little Liar" events, with Lucy so notably absent that fans have been asking about it in the comment sections.
In the past, the girls would be all over Twitter and Instagram if something good happened to one of them. But when Hale released her new album, "Road Between," there wasn't any congratulatory messages from the three girls, Crushable noted.
The only one who occasionally make a reference to Hale in her posts is Bellisario.
Hale, in the meantime, is pretending that their lack of support does not bother her. On her part, she has not been posting anything related to "Pretty Little Liars" on her social networking accounts, and according to Blind Gossip, Hale is only interacting with those people who support her.
Ian Harding, who essays the role of Ezra on "Pretty Little Liars", appears to be one of the few who is friendly with Hale.
Last week, the actress shared a photo of her hanging out with Harding, where the two are seen making silly faces for the camera. She even posted a video of the two in a mock fight, where she tells her co-star: "Ian, you've really been pissing me off lately." He receives a fake slap from Hale and the video ends with the actress giggling.
Recently, when Glamour magazine asked Hale on who she would like to sit next to during a cross-country flight, the pint-sized actress said she preferred Harding and Bellisario.
"It's a toss-up. Probably Ian because he has the energy and spirit of a child. I've never seen him in a bad mood. He's just always so happy and grateful to be there. And then Troian because she's just so smart and knows everything about everything, especially if we were traveling around the world."