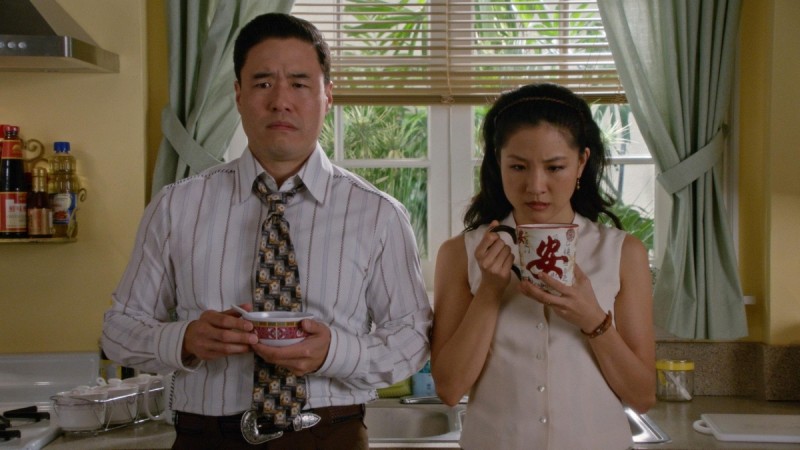 "Fresh off the Boat" was on a break last week, but it is back with a fresh, new episode on Tuesday, March 8, 2016. It is understood that the upcoming "Keep 'Em Separated" will see a jealous side of Jessica (Constance Wu).
According to the synopsis for the episode, Jessica, who is trying to spend time with her friend, neighbour and business partner Honey (Chelsey Crisp) gets interrupted by her husband way too many times. Irritated, she tells him to form his own friend group and let her hand out with hers.
However, when the obedient Louis (Randall Park) takes her advice and go to play pool with his pool buddy, Jessica gets jealous about how hot she is. In a promo video exclusively shared on TV Line, Angelique Cabral, the hot new friend, is seen swaying to the tune of "Black Velvet" by Alannah Myles.
Also Read: When will Mike meet Phil in "Last Man on Earth?"
She also shares an obvious bond with Louis, as the two are seen hi-fiving and low-fiving each other without even looking. Jessica is visibly jealous, but Honey tries to rationalise saying that anything and anyone would look sexy with "Black Velvet" playing in the background, however, the following the close-up shots that followed her words proved Honey wrong.
Meanwhile, the oldest Huang son Eddie (Hudson Yang) will be seen trying to deal with his former crush Nicole (Luna Blaise) and his current girlfriend Alison (Isabella Alexander) interacting. The title of the episode is possibly attributed to Eddie's predicament.
Watch Season 2 Episode 15 of "Fresh Off the Boat" at 8 p.m. (EST) on Tuesday, March 8. You can also live-stream "Keem 'Em Seperated" via ABC Go.