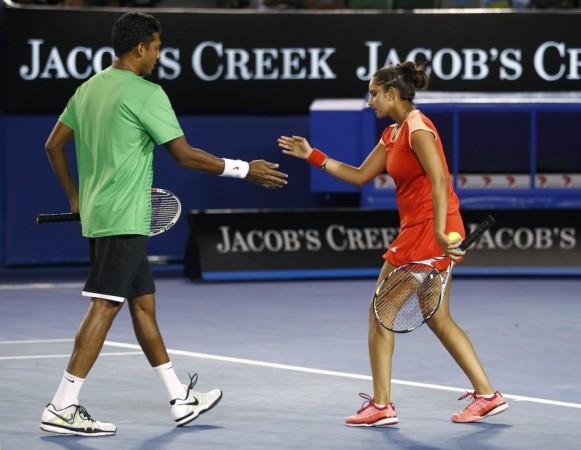 India's Mahesh Bhupathi and Sania Mirza clinched their maiden French Open mixed doubles title against Mexico's Santiago Gonzalez and his Polish partner Klaudia Jans-Ignacik on Thursday.
The winning duo sealed the game with a 7-6 (3), 6-1 win over the Polish-Mexican pair in one hour and 13 minutes at the Court Philippe Chatrier venue.
Despite a weak start, the Indian pair gained progression during the match, before eventually leading their rivals into a disappointing defeat.
Euphoric in his achievement, Bhupathi dedicated the win to his first-born child. "I can't thank the support staff enough... This is my first grand slam in years and also my first one since I became a father to my 4-month-old daughter who's watching me on TV. This one's for her."
It was a double whammy for Bhupathi, having won the sought-after title on his 38th birthday. Reeling in joy over the victory, Mirza made a dedication to all those close to her, and made a special reference to her winning partner.
"I thank my partner who's the best mixed double partner one could have. - want to thank my trainer Robert, my dad, our family back home and all the people in India who's watching us. Happy birthday to my partner...Now I don't have to think of a gift to give him," she said after the match.
Bhupathi and Mirza's efficacious combination previously lead them to winning the 2009 Australian Open. The duo was runners-up at the same tournament in 2008 after having lost to Sun Tiantian of China and Nenad Zimonjić of Serbia.
This is the third Grand Slam final that Bhupathi and Mirza have partnered with each other after the 2008 and 2009 Australian Open tournaments. While Thursday's trophy was the second Grand Slam title for the female tennis ace, Bhupathi now has 12 Grand Slam titles to his credit, including eight mixed doubles trophies.
Bhupathi's victorious mixed doubles win at the 2006 Australian Open catapulted him to the elite group, which consists of eight players who have achieved a career Grand Slam in mixed doubles