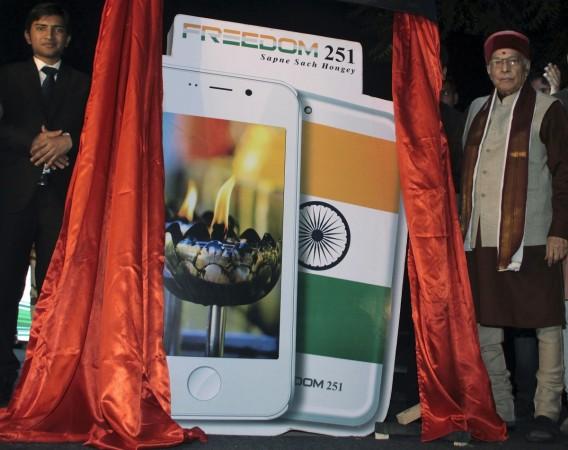 A smartphone for Rs 251 seemed too good a deal to believe, yet millions of people (70 million to be precise) booked the Freedom 251 smartphone when it was announced last year, with the promise of being perhaps, the world's cheapest smartphone. But not until the company that marketed these phones, Ringing Bells, failed to keep its promise of delivering the phones to the many people who took the Rs 251 gamble.
Now, the maker of the controversial Freedom 251 is back and claims that he can still deliver the handsets to its customers by March- April next year, provided he gets support from the government in doing so.
Ringing Bells' Managing Director Mohit Goel has said that his firm had planned to deliver the Freedom 251 handsets at Rs 251, but was cheated by two persons who did not deliver the item. The duo has since been arrested by Noida Police after Goel filed an FIR.
The accused, Vikas Sharma and Jeetu, both Delhi residents, allegedly took nearly Rs 3.5 crore in advance from Ringing Bells for delivering the handsets but did not deliver a single handset till date. They have been sent to Dasna Jail, according to IANS.
Speaking to IANS over phone, Goel said, "I paid the duo nearly Rs 3.5 crore and, in return, they cheated me. They syphoned off the money and did not deliver and did not deliver any phone. In February this year, some distributors filed a case against me and I was jailed for six months. Now, with the fresh arrests, people will come to know why I failed to deliver on my promise."
To recall, Goel was arrested in February after an FIR was filed against him by a Ghaziabad-based distributor 'Ayam Enterprises' which alleged that Ringing Bells defrauded it to the tunes of Rs 16 lakh.
Goel also expressed his displeasure because the government did not come to his support despite his commitment to Make in India and Start-up India initiatives. Now that Goel is released, he now seeks government support to live up to the promise to deliver the Freedom 251 handsets to the customers who booked it.
He said that he hasn't yet given up on his Freedom 251 dream and has no other plans in his mind other than delivering his promise. Speaking to IANS he said, "My vendors didn't deliver on time and I failed. Our company's President Ashok Chadda is still languishing in jail. I need one opportunity to come back clean and provide people with the handsets by March-April next year."
Goel further said, "The big players today have adopted my model and are now giving smartphones in as low as Rs 1,300 like Karbonn. The Jio model for paying Rs 1,500 in advance for a smartphone is similar. They have deep pockets so they can afford but why don't people ask them how they are making smartphones (for) so cheap?"
Meanwhile, Ringing Bells had received over 70 million registrations for the Freedom 251 smartphone when it announced the phone in early 2016. The company in mid-February had planned to deliver 5 million handsets before June 30, the same year. However, it delivered only 5,000 'Freedom 251' smartphones to customers in July last year, after which there no numbers were ever shared.
Inputs from IANS