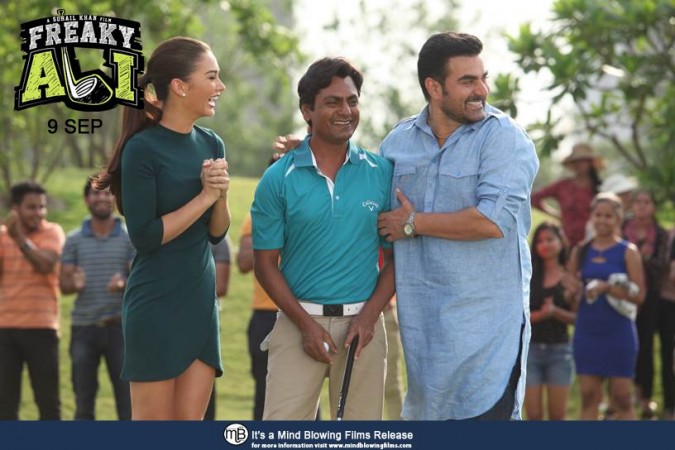 Director Sohail Khan's Bollywood movie "Freaky Ali," featuring Nawazuddin Siddiqui, Arbaaz Khan and Amy Jackson in the lead roles, has garnered positive reviews from the audience.
"Freaky Ali" is a sports drama, which is high on romantic-comedy quotient. The movie is an adaptation of the 1996 American comedy movie "Happy Gilmore." Sohail Khan has written the screenplay for the movie, while Raaj Shaandilyaa has penned the dialogues. The movie has been produced by Sohail Khan under his banner Sohail Khan Productionz.
Ali (Nawazuddin Siddiqui) is an extortion debt collector for the local goon along with Maqsood (Arbaaz Khan). One day, he and Maqsood go to a golf course to collect extortion money from a man who tells him to wait while he finishes the game. Ali puts the ball in just one ace for he has a gifted natural swing. How this act changes the life of an extortion debt collector to a golfing sensation forms the crux of the story.
As usual, Nawazuddin Siddiqui has delivered a brilliant performance and he impresses everyone with his comedy timing. Arbaaz Khan, Amy Jackson and others have also done superb jobs. "Freaky Ali" has good production values and Sajid–Wajid's music and Mahesh Limaye's cinematography are the attractions on the technical front.
Roshan Goswami ‏@iRoshanGoswami
#FreakyAliReview: This film proves again @Nawazuddin_S is one of the finest actor of this nation. #FreakyAliReview: Everyone did very well job. Overall its also a very good film. I'll gave 4.0/5.0 stars to #FreakyAli. Must watch
RJ Harshil ‏@RjHarshil
#FreakyAli till interval : Ali Surely entertains with his dialogues and comic timing Arbaz is not bad either. After entertaining first half director and writer got freaky and spoiled the Film. #FreakyAli
Priya Ranjan Pradhan ‏@ibapuni
#FreakyAli is light romantic comedy drama. @Nawazuddin_S comic timings r brilliant along with @arbaazSkhan supportive role #loved it
Abdul sameer ‏@AbdulsameerD
#FreakyAli Entertainment written allover @Nawazuddin_S @arbaazSkhan Rocked it. Superb film by @SohailKhan 4∗/5∗
Bobby Talks Cinema ‏@bobbytalkcinema
#FreakyAli - At intrvl its not any entertaining film at all wid many crude & childish supposedly comic seqnces. Disappointng till now. #FreakyAli - And yes with a highly inspired story progression, characters and scenes too, it borrows heavily from HAPPY GILMORE. #FreakyAli - Avoiding a complete copy of HAPPY GILMORE, they make a highly inspired Indianised version that's neither entertaining nor exciting full of cliched and predictable moments leading to even boredom.
Rajniesh Duggall ‏@RajnieshDuggall
#FreakyAli a funfilled film with the right emotional buildup.Surely a winner @SohailKhan Bhai. background score and performances/dialogues
Ashvini Yardi ‏@AshviniYardi
How wonderful is #FreakyAli..Nawaz & his 'gulf' was just fantastic..@iamAmyJackson u were fab loved all d supp. cast specially budha Ghajni
Rahul Dholakia ‏@rahuldholakia
Nawaz is super entertaining and a lot of fun as #FreakyAli ! Good luck my friend @Nawazuddin_S and the team of Freaky Ali.
Wajid Khan ‏@wajidkhan7
Superhit written all over #FreakyAli enjoyed again n again v cute film @Nawazuddin_S@arbaazSkhan hv nailed it big time grt film @SohailKhan
Gemini ‏@wpengu
@SohailKhan thats superb,awareness bring brilliant results,#FreakyAli definitley will touch ppl's hearts on larger scale
Ali Bhai ‏@alibhaiaa
#FreakyAli is absolute riot, truly enjoying , terrific acting by both @Nawazuddin_S DEFINITELY WATCH /5
Sonali Mansingka ‏@SonaliMansingka
#FreakyAli ..hilarious and straight from the heart ! Loved every bit of it@abbasmuni @SohailKhan #gowatch
Rohit Jaiswal ‏@rohitjswl01
#FreakyAli is a good film.. with superb dialogues... Single theater mai dekhne ka maza he alag hai.. @Nawazuddin_S @BeingSalmanKhan
Jigar Ganatra ‏@MrJGanatra
#FreakyAli review 1. @Nawazuddin_S's ease, finesse and charm adds value to his character as Ali. He is good, as always. @SohailKhan The movie is full of lame and old jokes. Poor scripting & forced dialogues make @FreakyAliMovie disappointing.. Music is decent. Not a lot of effort has been put in the music, hence doesn't make a mark. 4. The movie may cater only to #NawazuddinSiddiqui fans and limited audience. Not for serious movie lovers.
Salilacharya ‏@Salilacharya
His man is such a joy onscreen @Nawazuddin_S #freaky ali is soo muccj fun @SohailKhan gets it right even with #golf Whn ur cheer for the hero in #sport film u know its working #FreakyAli @Nawazuddin_S @nikitindheer and the entire supprting cast are super
Dharam Soni ‏@Dharam786DXB
Now interval. Excellent till now . @Nawazuddin_S you are best as suportive @arbaazSkhan . Great Danger bhai @SohailKhan as director. #FreakyAli . Poor screenplay & No story . Acting was good But second half was bad. Sorry Floop for sure. Sorry guys .