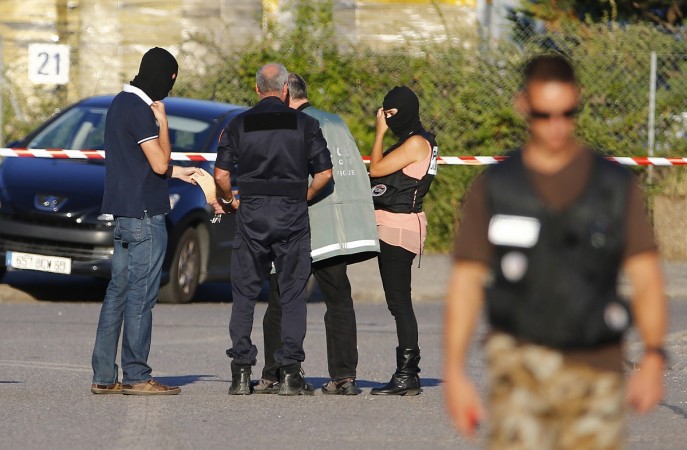 Terror gripped France on Friday, just six months from the Charlie Hebdo massacre, after a severed head was found on the gates of an American factory in Grenoble.
The main suspect is Yassin Salhi, a 35-year-old delivery man, who had been hired by the victim in March this year to work at the US-owned gas factory.
Salhi, a resident of Lyon's Saint-Priest suburb, hailed from a "normal Muslim family" and lived a "normal family life", his wife of ten years, who was also detained by the police on Friday, told the French media. The couple has three children.
Salhi reportedly left home for work as usual at 7 am on Friday, his wife said, but hours later, he unravelled a seemingly planned crime described by French President Francois Hollande as a "terror attack".
Salhi was allowed into the factory's compound with his truck as he was known to the employees, but he rammed the vehicle into a warehouse, setting off an explosion as it was filled with gas canisters.
As firefighters arrived on the scene, they caught Salhi trying to open a canister and apprehended him, but what they found minutes later left the world shocked.
The authorities found the severed head of Salhi's 54-year-old boss hangingfrom the factory gate with Arabic writing scrawled on it, while the decapitated body was found next to the vehicle.
"The head was discovered hanging on the factory's wire fence, framed by two flags that included references to the shahada, or (Muslim) profession of faith," said Paris public prosecutor Francois Molins, according to Reuters.
An Islamist flag was also found at the site, with the phrase "There is no God but God and Muhammad is his prophet" next to the severed head, giving rise to speculations about it being an Isis attack.
The fact that the French attack also seemed coordinated with Isis attacks in Kuwait and Tunisia on Friday lent more credence to the theory.
However, Salhi is not believed to be associated with the Islamic State, but had been under French surveillance between 2006 and 2008 for his links to the Salafist movement, which is a fundamentalist form of Islam.
What drove Salhi to take the gruesome step of beheading his boss and launching an attack on the Air Products factory is not clear, though Reuters reported that the company's chairman Seifi Ghasemi is an Iranian-born, hinting at a possible motive of attacking a Shia entity, whom Sunni militants consider as "heretics".
Salhi's radicalism was never known to his neighbours, who described him as "friendly and polite" and someone who "loved to play football with his children".
Salhi's sister and another person have also been detained for questioning.