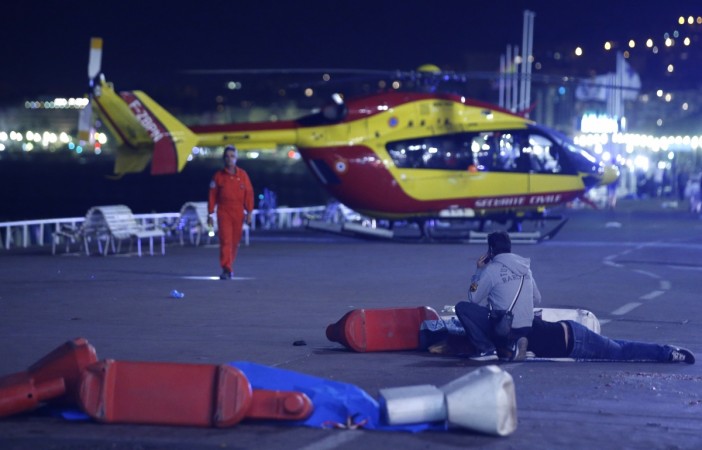 At least 84 people were killed and many more injured â€" 18 of them critical â€" when a truck ploughed into a crowd as they watched the Bastille Day parade in Nice, France, late on Thursday, July 14, local time. The toll is expected to go up further.
7 p.m.: Addressing mediapersons at Nice, French President Francois Hollande said there are at least "50 people between life and death."
6:15 p.m. IST: The alert at the Nice airport has been lifted and normalcy is returning.
5:30 p.m. IST: Alert has been sounded at the Nice airport, which is being evacuated.
4:15 p.m. IST: Local police are now saying the an ID found on the driver of the truck belongs to a French-Tunisian man who is 31 years old, but a DNA test is yet to be conducted to determine if this is the same man who has been killed.
Meanwhile, French President Francois Hollande has reached Nice.
3:15 p.m. IST: It seems France had taken quite a significant amount of precautions in anticipation of a terrorist attack in Nice. However, it has come to nought.
1:30 p.m. IST: France has declared three days of national mourning after the terrorist attack.
1:15 p.m. IST: Police sources say they have formally identified the attacker, but no name has been announced so far. Earlier reports had said the attacker was a 31-year-old man who had citizenship of both France and Tunisia.
12:30 p.m.: Islamic State group sympathisers have flooded social media with posts "celebrating" the deadly attack. However, no one has taken responsibility for the attacks so far.
12 p.m. IST: After abundant eyewitness accounts, videos of the attack surface online. Meanwhile, eyewitnesses say the truck driver appeared to accelerate has he hit people.
11:10 a.m. IST: The toll has now risen to 84, as confirmed by French authorities.
10:30 a.m. IST: Some reports say the firearms found in the truck are fake, while the grenades are inactive. Meanwhile, the outpourings of grief on social media are turning into a deluge.
10 a.m. IST: Facebook has activated "Safety Check" for people in France following the attack.
9 a.m. IST: The official toll is now 80. The truck, which is at the centre of the incident, is said to have been loaded with firearms and grenades. He is said to have driven his truck for 2 km within the crowd at a speed of 50 kmph.
Meanwhile, the Indian Embassy in Paris has opened a hotline for its citizens in France, which they can use to send in information of all sorts.
8:30 a.m. IST: French President Francois Hollande said of the "terrorist nature" of the attack was undeniable. He also extended the state of emergency, which lets the police conduct raids and searches despite haaving any warrant or judicial oversight, and empowers officials to keep suspects under house arrest, was to have ended on July 26, by three months.
French Interior Minister Bernard Cazeneuve said: "We are at war with terrorists who want to strike us at any cost and who are extremely violent."
8 a.m. IST: The driver has now been identified as a person who holds the nationality of both France and Tunisia. He is said to be 31 years old.
7 a.m. IST: Indian Foreign Ministry Spokesperson Vikas Swarup has said no Indian has so far been reported as affected in the attack. He also said the Indian Ambassador in France was in touch with the Indian community in Nice, and getting regular updates from them.
6:30 a.m. IST: The toll has now reached 73. The authorities sy the truck was seen "zigzagging" through the crowd -- driven in a manner that would indicate the driver was trying to inflict maximum damage. The police are now checking if he had any accomplices.
6 a.m. IST: The toll is said to have risen to 60. Eyewitnesses say they saw the driver of the truck fire at the people as he drove. Reports are also coming in that he drove the truck for quite some distance while hitting people.
5:30 a.m. IST: The police say at least 30 people have been killed and more than 100 injured in the attack. The man driving the truck has also been killed. Emergency services and security forces are on the spot.

4:30 a.m. IST: A truck ploughed into a crowd of people watching the Bastille Day parade in the French town of Nice. Dozens are feared dead and many more hurt.
Bastille Day is the French national day, and celebrated in honour of the storming of the city of Bastille in the initial days of the revolution in 1790. It was declared a national holiday in 1880, and has since been celebrated with much fanfare, including parades, in the country.