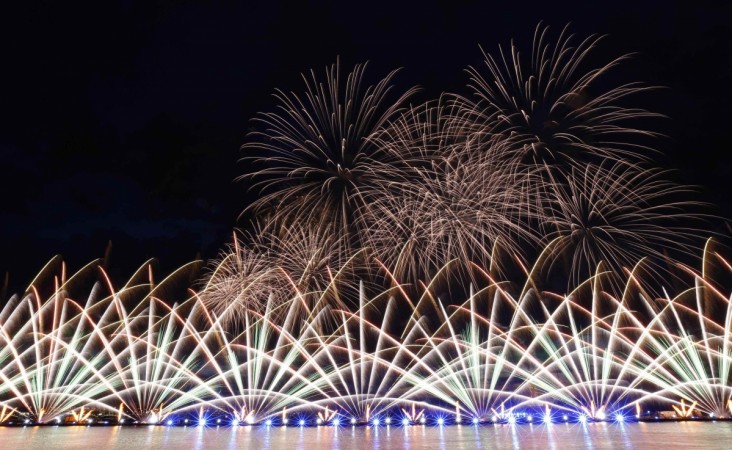 Millions of American citizens are ready to witness one of the greatest fireworks in the country on the occasion of the Fourth of July, but Hurricane Arthur is reported to be moving ferociously to the east coast - almost determined to foil all the fun over the weekend.
Those travelling to Boston hoping to see the Independence Day fireworks are in for some disappointment as the Boston Pops Fireworks Spectacular was conducted on 3 July, to avoid the impact of the tropical storm.
"Tomorrow, the third, gets us the best opportunity to get the musical portion of the show and the fireworks show off," Massachesetts State Police Col. Alben had said in a press conference on Wednesday afternoon, explaining the decision to prepone the show.
"In essence, what we plan on doing is taking the July 4 show and moving it up to tomorrow."
Washington, DC is also preparing for a spectacular Independence Day display but there are increasing concerns that Hurricane Arthur could spoil the show.
The 6000-shell show is scheduled to begin around 9:30pm on Friday but the hurricane's winds, lightning and heavy rain could delay or even postpone the program, ABC News reported, citing a National Mall spokeswoman.
However, the Macy's Fireworks Spectacular in New York City is still on as the organizers have not announced if the program is going to be postponed, though concerns are still high.
Those who are planning to visit the East River in New York City for the Macy's show can text SPARK to 62297 for important information and updates.
Meanwhile, those who want to find out if the DC show will take place, text "July4DC" to 888777 or follow the NPS's Twitter feed, ABC notes.
"If there is normal rain, the performance can still go on," Shennell Antrobus, a public information officer with the US Capitol Police, told the news channel. "The clam shell provides protection to the stage."
However, if Hurricane Arthur's high winds and lightning poses hazards to public safety, the Capitol Police could even cancel the concert.
Also read:
Where, How to Watch Independence Day Fireworks in Major US Cities
4th of July 2014: 15 Independence Day Quotes, Patriotic Sayings Worth Sharing