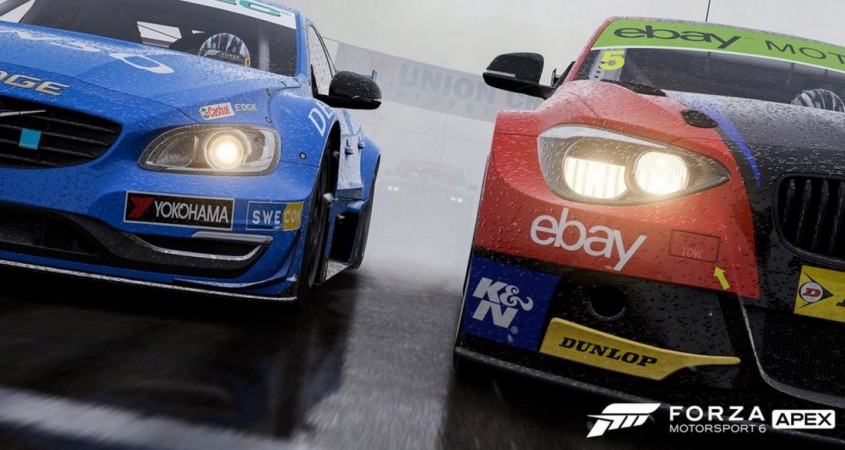 The release of "Forza Motorsport 6: Apex" for Windows 10 marks Forza Motorsport's expansion into new territory — Windows 10 PCs. The racing game from developer Turn 10 Studios is an open beta, available for free download. The game released on May 5.
"Most importantly, 'Forza Motorsport 6: Apex' is our way to introduce Forza's award-winning gameplay to a new audience on Windows 10 and invite a new group of gamers to develop a passion for cars and racing," said Brian Ekberg, community manager at Microsoft in a post on its official blog.
The game is said to run at resolutions up to 4K. "Forza Motorsport 6: Apex" offers players a new career mode featuring a 12-event "Showcase Tour." This allows players to race cars on circuits from around the world. The game will also include new "Spotlight Series" events, which will challenge players with unique automotive events and will update on regular basis.
The game will include a new set of Xbox Live achievements, and new mechanics like the all-new Race Points system, where players are challenged to turn off assists and take on bigger challenges.
The game allows player to race 63 cars that have working headlights, doors, and cockpits. The game will feature 20 track configurations. The game also features immersive wet-weather and night-racing conditions.
System Requirements:
Minimum
Recommended (1080p at 60 FPS)
Ideal (4K at 60 FPS)
OS
Windows 10 64-bit version 1511
Windows 10 64-bit version 1511
Windows 10 64-bit version 1511
Processor
Intel Core i3-4170 @ 3.7 =Ghz
Intel Core i7-3820 @3.6Ghz
Intel Core i7-6700k @ 4Ghz
GPU
NVIDIA GeForce GT 740AMD Radeon R7 250X
NVIDIA GeForce 970AMD Radeon R9 290X
NVIDIA GeForce GTX 980tiAMD Radeon Fury X
HD Space
30GB
30GB
SSD + 30GB
RAM
8GB
12GB
16GB
VRAM
2GB
4GB
6+GB
DirectX
DirectX 12
DirectX 12
DirectX 12
Suggested Input
Xbox One Controller
Xbox One Controller
Xbox One Controller
Developer list issues following release
Meanwhile, Turn 10 Studios have provided a list of known issues on its Forum post that have affected players:
Some graphics cards may not have supported drivers available
Crashes can occur after repeated races on low-memory machines
Low Memory warnings can occur with default settings
V-Sync cannot be disabled
Hybrid GPU laptops may experience tearing
Unable to disable anisotropic filtering
Unable to manually disable MSAA
Dynamic render quality may be set incorrectly
Fury X + 16 GB machines unable to select "Ultra"
Racing wheels are not supported
Some controllers may not function as intended
Multi-monitor scenarios are not supported
Car Bowling pins don't count after rewind.
Drivatar Badges flicker during race
Intro video audio is out of sync
Some badges may appear locked after unlocking
Saved photos cannot be shared
Restarting races can cause the track to disappear
Closed Spotlight events still retain "New" tag
Cars unlocked on car select don't refresh.
Photomode dropping resolution