Fortis Healthcare shares crashed on Friday after the Supreme Court put on hold the sale of the company to IHH Healthcare Berhad.
Shares of the company, beset with a cash crunch, rising debt and controversies, tanked 14 percent on the Bombay stock exchange.
The court announced the verdict in a contempt plea lodged by Daiichi Sankyo against former Fortis promoters Malvinder Singh and Shivinder Singh as well as Indiabulls.
The Japanese drugmaker said the Singh brothers and Indiabulls had pledged 1.7 million shares of Fortis Healthcare held by IHS, thus creating encumbrance defying court orders.
The court had banned Singh brothers from pledging anymore of Fortis shares beyond February 15 this year.
The suspension of the sale process will further hit Fortis and its shareholders as IHH will likely step away from infusing liquidity into cash-strapped Fortis.
Malaysia's IHH Healthcare Bhd entered into a deal in July this year under which it would assume the ownership of 30 hospitals of Fortis for $1.1 billion.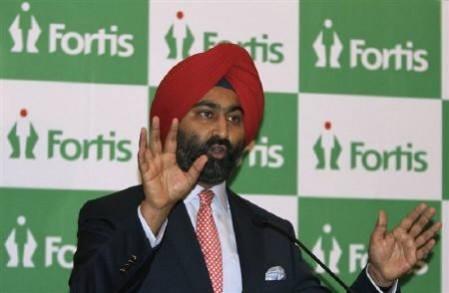 Fortis said it accepted a Rs 40 billion ($585 million) offer from IHH for a 31 percent stake. Fortis was to issue IHH new shares at Rs 170 per share. Complying with Indian regulations, IHH would additionally take another 26 percent in the company for Rs 33 billion.
IHH had said it was expecting the deal to be completed in the fourth quarter.
Forts has been reeling under debt as well as the squabble between promoters. The Serious Fraud Investigations Office as well as the Securities and Exchange Board of India (Sebi) have been probing allegations that Malvinder and Shivinder diveted money from the company.