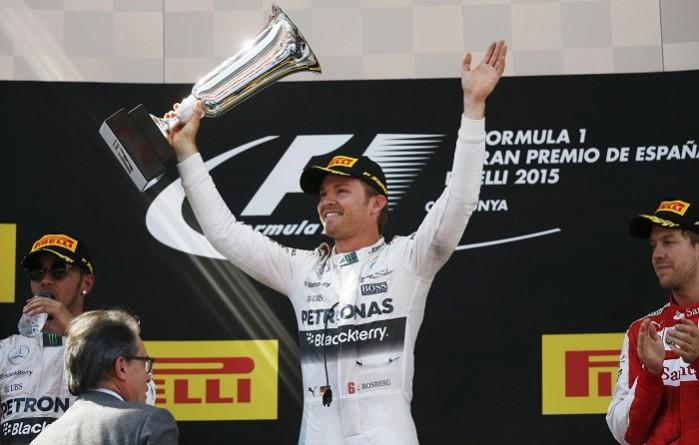 Mercedes driver Nico Rosberg recorded his first win of the season at the Spanish Grand Prix, while his teammate Lewis Hamilton and Ferrari's Sebastian Vettel claimed the second and third place respectively.
The German, who started from the pole position on Sunday, was in lead throughout the race to finish it in 1:41:12.555s, 17.551s ahead of Hamilton and 45.342s ahead of Vettel.
Hamilton got off to a very poor start and Vettel, taking advantage of the Englishman's lack of pace early on, beat him on the run down to Turn 1.
This turned out to be very beneficial for Rosberg as he was able to build a good lead in the early stages, while Hamilton focused on catching Vettel.
The defending champion was finally able to get ahead of Vettel when the German pitted for new tyres on lap 41. He managed to build a formidable lead over the four time champion, and when he made his final pit stop on lap 51, he still managed to come out ahead of Vettel, who was heard complaining on his radio: "we lost too much time in traffic".
Hamilton tried to challenge his teammate Rosberg for the victory, but his team told him a win was "impossible" and advised him to focus on consolidating the second spot as he did not seem to have enough pace or laps to be a threat to the German.
Finally he did as he was advised to and ended up finishing the race comfortably in second position, 27.791s ahead of Vettel.
Meanwhile, Williams driver Valtteri Bottas (+59.217s) claimed the fourth place, followed by Ferrari's Kimi Räikkönen (+60.002s) and his teammate Felipe Massa (+81.314s).
Red Bull's Daniel Ricciardo (+1 lap) claimed the seventh place, followed by Lotus' Romain Grosjean (+1 lap) And Toro Rosso Carlos Sainz (+1 lap).
Red Bull driver Daniil Kvyatclaimed was at the last point position by finishing tenth.
Rosberg, who is now 20 points behind his teammate Louis Hamilton in the driver standings, expressed his delight after recording his first victory since the Brazilian Grand Prix last season.
"We had a perfect weekend here in Spain. We have a fantastic car and everybody did a really great job in the break, so thanks to the team for everything," the German told F1's official website.
"My start was great for the first time this season. From there I was able to control the pace and I never felt in danger throughout the whole race. I'm so happy about this win."
Meanwhile, Hamilton admitted that he got off to a poor start and said that he could not catch Rosberg despite fighting very hard and he had to eventually settle for the second place.
"It's been a long time since l had such a bad start," Hamilton admitted. "I fought hard but unfortunately this is track is the worst for overtaking and it's impossible to follow here. It doesn't matter what you do, you can't get close enough. It was damage limitation for me."
Vettel, on the other hand, is confident that Ferrari will be able to give more competition to Mercedes in the future.
"I'm pretty confident we will get closer again," the German told F1's official website. "Hopefully in two weeks' time. I'm confident in the next two or three races we should be stepping up our game again."