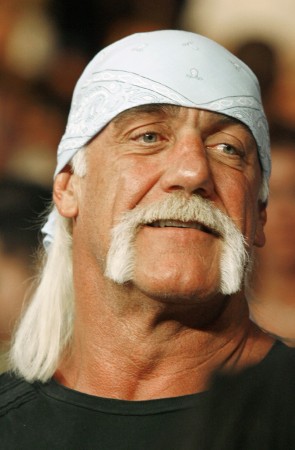 Former WWE wrestler Hulk Hogan's sex tape will be aired in a Florida courtroom, and members of the jury as well as select court personnel will be allowed to view the video, a new report stated.
The sex tape shows Hogan, real name Terry Bollea, having sex with Heather Clem, the ex-wife of radio shock jock Bubba the Love Sponge Clem.
The tape was leaked by Gawker and Hogan is suing the website for $100 million.
A written ruling by Florida Circuit Court Judge Pamela Campbell, which was obtained by Radar Online, noted that the video will be played in court and the monitors will be turned in such a way that "only the jury, the parties, their trial counsel, and court personnel may see the video."
"The public and press shall not be excluded from the courtroom when the video is played, and the pooled camera shall not be turned off during such time," the judge added, according to the media outlet.
In recent times, Hogan has been in the news for all the wrong reasons, and the former wrestler is said to have used racist remarks during his time with Clem. According to National Enquirer's sources, Hogan used the N-word while venting his anger about his daughter Brooke's then boyfriend.
"I don't know if Brooke was f*cking the black guy's son," Hulk reportedly said, according to reports. "I mean, I don't have double standards. I mean, I am a racist, to a point, f*cking n*ggers. But then when it comes to nice people and sh*t, and whatever."
"I mean, I'd rather if she was going to f*ck some n*gger, I'd rather have her marry an 8-foot-tall n*gger worth a hundred million dollars! Like a basketball player!
"I guess we're all a little racist. Fucking n*gger."
Apologising for his racist remarks, Hogan recently told Good Morning America that he was going through a dark time when he went on the N-word rant that was videotaped and leaked. "I was to the point where I wanted to kill myself, you know?" Hogan said. "I was completely broken and destroyed and said, what's the easiest way out of this? I mean, I was lost."