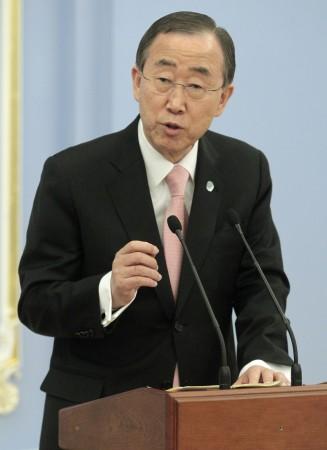 Former United Nations chief Ban Ki-moon, who was expected to run for the upcoming South Korean presidential elections, on Wednesday (February 1) ruled out his bid.
Ban said he did not want to run for the presidential position in South Korea as he was "disappointed at the selfish ways" of some of the politicians of the country and also complained of "fake news".
Is Ban Ki-moon set to run for president of South Korea?
"With all kinds of fake news, my intention for political change was nowhere to be seen and all that was left were grave scars to my family and myself, and to the honour of the UN, where I spent the past 10 years," Ban said.
South Korea is currently in the middle of a political crisis after President Park Geun-hye was embroiled in a corruption scandal and underwent an impeachment trial earlier this month. Reports said if the country's constitutional court upholds the impeachment vote against Park, then she will be the first South Korean president to be deposed in the nation's democratic era. After the acceptance of her impeachment by the constitutional court, another presidential election will be held reportedly within 60 days.
There have been massive protests against Park, who will turn 65 on Thursday (February 2), recently with thousands taking to the streets demanding her ouster. Her relationship with close friend, Choi Soon-sil reportedly led to the latter's growing influence and financial benefits.
Prosecutors said Park, South Korea's first woman president, had a major role in the alleged corruption. Park, despite denying having played a part in corruption, apologised for her close relationship with Choi, the daughter of a religious sect leader. She reportedly held sway over choosing government officials, Choi's wardrobe and helped in extorting millions of dollars from South Korean companies. It also involves leaks of classified information.
Although Ban has never announced his presidential bid in the country, the media has been closely following him and scrutinising his decisions ever since his return to South Korea on January 12. The media also ran a series of minor mistakes the former UN chief made, including not knowing how to buy a ticket for the airport express train and feeding porridge to an old woman in a care home while he was wearing a bib and the old woman not.
Ban's public profile was also affected when his brother Ban Ki-sang was indicted and a nephew was arrested in the US in a bribery scheme involving a Vietnamese development project.
The media coverage and his family scandals have led to a fall in Ban's support rating to second place behind the presidential candidate of the main opposition Democratic Party -- Moon Jae-in, after peaking at nearly 30 per cent last year.
Before taking the top job at the United Nations, Ban was South Korea's foreign minister from 2004 to 2006 and assisted in implementing a policy of engagement with rivals North Korea.