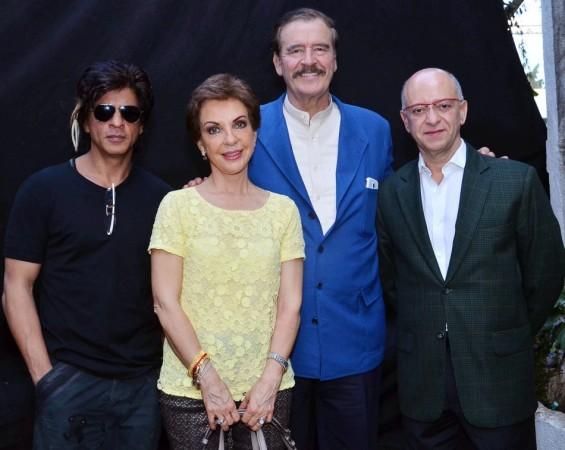 Shah Rukh Khan has a legion of fan following worldwide, which never ceases to amaze. The latest person to join Shah Rukh's fan following list is Vicente Fox Quesada, the former President of Mexico.
Fox, during his visit to Mumbai, met Bollywood's badshah Shah Rukh, who was shooting for Farah Khan's film "Happy New Year" at RK studious in Chembur. Fox along with his wife Martha Fox and Mexican ambassador to India, Jamie Nualart met SRK on the sets of "HNY" on 11 February.
"This was the first time that Fox visited the sets of a Bollywood film, and he was extremely excited about it. He talked about his liking for India, its culture and its people. SRK was also heard saying that he has visited Mexico once. He went on to say that he would like to make a film there," Hindustan Times quoted a source as saying.
During their meet, SRK and Fox spoke about serious issues like education and providing better school facilities. The actor also explained how films are made in India.
Apart from SRK, "Happy New Year" director Farah Khan also met the former President, who invited them to attend the shooting of her film "Happy New Year".
Last year, Mexican actress Rebeca Mayorga came to India to attend the music launch of "Chennai Express"
During the music launch the actress said that Shah Rukh is her favourite Bollywood actor.
"I love Shahrukh Khan he is my favorite actor. I am glad I got a chance to come here and attend this music launch. He is also a number one star in India and Abroad and he is the undisputed "King of Bollywood," Mayorga said, according to The Times of India.