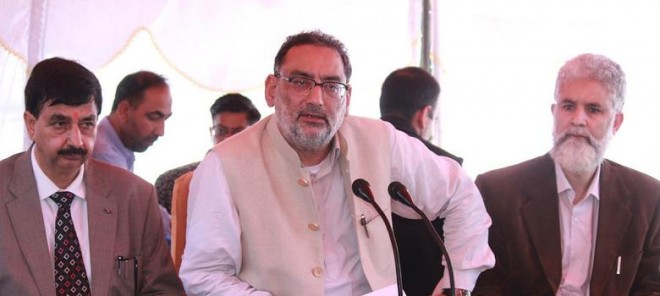 Haseeb Drabu, the former J&K finance minister in Mufti Mohammad Sayeed and Mehbooba Mufti's cabinet, has quit Peoples Democratic Party, four and a half years after joining it. Drabu is known to have played a key role in stitching the controversial PDP-BJP alliance, which stunned many because both the parties represented two extreme ideologies.
Drabu announced his resignation from PDP on Twitter, days after J&K Assembly was dissolved by the Governor Satya Pal Malik. He was also an MLA in the J&K Legislative Assembly. In a letter addressed to PDP President Mehbooba Mufti, Drabu stated that he did not agree with the way Assembly was dissolved.
Bidding Adieu to PDP. Another phase of life over. pic.twitter.com/r5YbZoYRYb

— Haseeb Drabu (@HaseebDrabu) December 6, 2018
He also said that though he had wanted to quit the party two years ago but Mehbooba did not accept his resignation.
Drabu said that he had not been a dissident but he has not been involved in the party affairs for quite some time now.
He also courted a controversy in March 2018 when he stated that the Kahsmir issue is not a political one but a social one which upset many of his political colleagues and rivals.
Many even called him and PDP a "sellout" which has detracted from the party's agenda. This led the then Chief Minister, Mehbooba Mufti to drop Drabu from her cabinet and seek an explanation from him for his comments.
Drabu also credited the late Mufti Mohammad Sayeed for introducing him into politics and defended Mufti's decision of allying with Modi led BJP government at the centre.
PDP has witnessed an internal revolt for quite some time now with MLAs such as Imran Ansari, Javed Ansari and senior leader, Muzaffar Hussain Baig announcing their resignations and joining Sajad Lone led Peoples Conference,