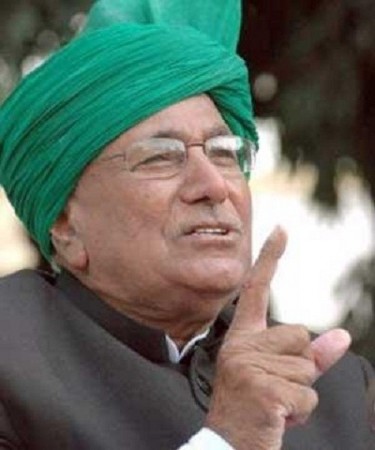 The clashes between supporters of ex-Haryana chief minister Om Prakash Chautala and police intensified outside a Delhi court after a verdict on his sentencing was pronounced in the teachers' recruitment scam case on Tuesday.
The court in Rohini found Chautala, his MLA son Ajay Singh, and 53 others guilty of illegally appointing over 3,000 junior teachers for government schools in return for cash in 1999-2000. The politician, his son, two IAS officers and four teachers were given 10-year terms in prison, reported The Times of India.
The others were given less harsh term up to five years, said reports.
The clashes began in the morning before the court issued the verdict. Thousands of supporters and workers of the Chautal-headed Indian National Lok Dal (INLD) were protesting outside the court and shouting slogans. Policemen resorted to lathicharge and tear-gas shelling as protestors were trying to break through the barricades.
Soon after the sentence was given, protestors hurled crude bombs and stones at the court premises.
The defence lawyer appealed the court to consider Chautala's health on issuing the term of his sentence. The 78-year-old politician was being treated at a Delhi hospital for chest pains during the past two days, reported NDTV.
The sentencing has eliminated Chautala and his son's chances of contesting for the state polls next year. However, INLD state President Ashok Arora said the party would challenge the court's decision and that convicted MLAs and MPS are allowed to participate in the elections.
"The verdict of the Delhi court is not final. The party will challenge the decision in a higher court and both will come out clean as ultimately the truth will prevail," Arora told PTI. He also added that Chautala, who served five terms as state chief minister, would continue his role as party chief.
Chautala and Singh were chargesheeted in 2008 following a CBI probe into the scam. They along with the others were convicted on Jan 16 on charges that include cheating, forgery, presenting fake documents, conspiracy and abuse of power under the Prevention of Corruption Act.