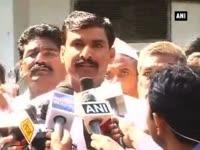 Gujarat's former Director General of Police P C Pande was discharged by a CBI court on Wednesday in the fake encounter killing of Tulsiram Prajapati as the state government did not give its sanction necessary to prosecute him.
"For want of sanction, the charges against the accused PC Pande are dropped," special CBI court judge MB Gosavi was quoted by PTI as saying.
Defending his client, Pande's advocate Sachin Pawar said,"We argued that Pande was only discharging his official duty and to prosecute him mandatory sanction from the government must be obtained."
Tulsiram Prajapati was an associate of gangster Sohrabuddin Sheikh and an eyewitness to Sheikh's death in an encounter by the Gujarat police in November 2005. Prajapati was killed in an encounter in December 2006.
Earlier in December last year, the court had discharged BJP president Amit Shah in the two alleged encounter cases, saying he was implicated for "political reasons."