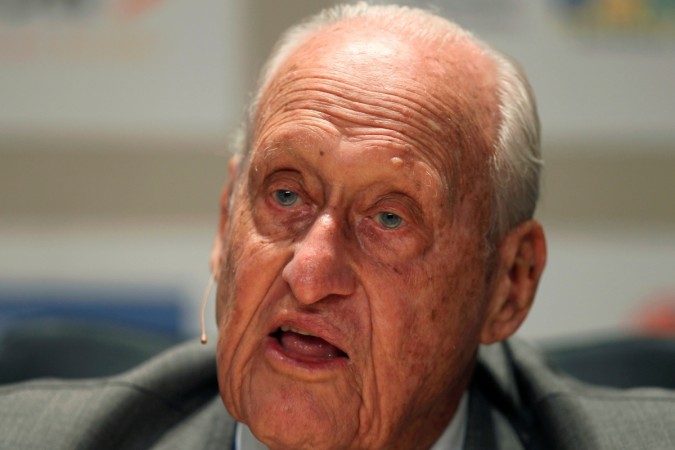 Joao Havellange, the former president of world football body FIFA, breathed his last on Tuesday in Brazil at the age of 100.
Havelange, who had been president of FIFA from May 8, 1974 to June 8, 1998, had been involved with the sporting body till 2013, until his health deteriorated. He was also a member of the International Olympic Committee (IOC) from 1963 to 2011, and had resigned from there also due to ill health.
Havelange had been hospitalised for various reasons over the past few years, ranging from an ankle infection, a lung infection and other problems.
Born on May 8, 1916, in Rio de Janeiro, Havelange was an Olympic-level swimmer who participated in the quadrennial games in 1936.
Havelange was instrumental in expanding the world of football to a great extent. It was under him that the FIFA World Cup changed format from 16 teams to 32 teams. Six of those tournaments were held when he was president of the world football body.
He was also instrumental in the introduction of tournaments like the FIFA under-17 World Cup, FIFA under-20 World Cup, FIFA Confederations Cup and FIFA Women's World Cup. His tenure also saw the world football body coming into a windfall of sorts, as he managed to garner more and more money for the live telecast rights of the FIFA football tournaments, and especially the World Cup.
However, Havelange's tenure at FIFA was a checquered one, to say the list. Carlos Lacoste, who became the vice-president of FIFA in 1982, when Havelange was heading the body, had been a de-facto president of Argentina after a coup in 1976. He was investigated on charges of corruption after democratic rule was restored in the country.
Havelange had also been associated with Castor de Andrade, who headed an illegal gambling operation, and was jailed in 1994 for six years. Havelange had written a glowing character reference for him, which was unearthed during the investigation into de Andrade.
Interestingly, legendary Brazilian footballer Pele had once been a close associate of Havelange, even going so far as to help the latter lobby for presidency of FIFA in the 1970s. However, they had a falling out when Pele criticised Ricardo Teixeira, another former Brazilian footballer who was once married to Havelange's daughter.
Havelange and Texeira had also been accused of embezzlings millions of dollars from FIFA's funds.