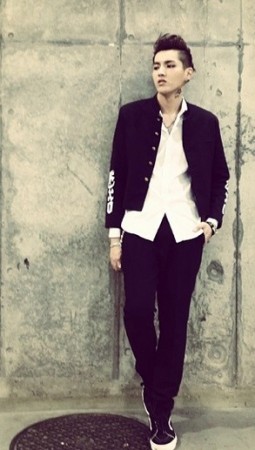 It has been almost a year after since EXO member Kris (Wu Yifan) terminated his contract with South Korean K-Pop boy band EXO, but he is still the favourite among fans who are eagerly waiting to see him back in the team.
However, the 24-year-old celeb recently hinted that he has no plans to rejoin the group, as he does not want to regret later for a decision that could let down his family members who have lot of hopes about his future.
Kris revealed his intent while attending the 15th Anniversary of Chinese media outlet Sina, where he bagged the Outstanding Youth Award for the year.
The ex-member of the Chinese-Korean boy band even stated that he wants to continue with his acting career and thanked Chinese film directors Xu Jinglei, Guan Hu and Feng Xiaogang for nurturing him. "They are very tough and stern. In fact they are very generous as they praise and encourage new comers. I was very happy throughout the entire process," he said.
Meanwhile the celeb revealed that his anxieties about his future forced him to terminate the contract. "As a trainee you would feel uncertain, doubtful and fearful of the future. And you would have no idea of when you would be able to accomplish you dream or perhaps you would not be able to accomplish it at all. Because no one will tell you what the path a head is like and you would not know either," he said.
But Kris said his experience with the Korean media was very fruitful as he got to learn a lot. "When I was 18, by chance I entered the entertainment industry and began chasing another dream. The Korean training system is very comprehensive but also very strict. During those 7 years over there I learnt a lot and endured hardship and frequently missed home especially during New Year's and special occasions."
Towards the end of his speech, which can be watched below, he assured his fans he will work harder and try to do different roles, experience different lifestyles and be a good actor.