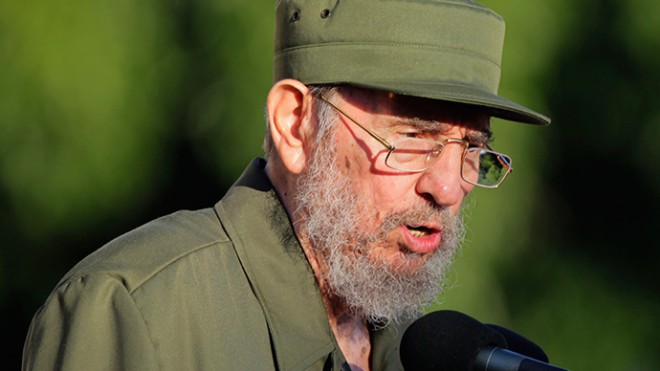 Former Cuban leader and politician Fidel Castro died on Friday night, state TV announced. Castro was a revolutionary who ruled Cuba as Prime Minister from 1959 to 1976 and then as President from 1976 to 2008.
Cuban state-run television said the former long-time president died at 7pm local time. Castro's brother and current president, Raul Castro, confirmed the news.The nation is to observe a nine-day mourning period for the leader. Castro's funeral date is set for December 4.
Castro ruled the country as one-party communist state before handing over power to his brother Raul Castro owing to his deteriorating health. Castro also shared a comraderie with the revolutionary leader Che Guevara and both shared a complex relationship. Both the leaders led the Cuban guerrilla revolution to upturn the dictatorship of Fulgencio Batista.
Castro a Cuban nationalist and Marxist-Leninist also served as the First Secretary of the Communist Party of Cuba from 1961 till 2011. The bearded revolutionary survived possibly hundreds of assassination plots against him, several of them carried out by the US.
World leaders reacted to the death of the Cuban leader:
Prime Minister of India Narendra Modi
"Fidel Castro was one of the most iconic personalities of the 20th century. India mourns the loss of a great friend."
President of Mexico Enrique Peña Nieto
"I lament the passing of Fidel Castro Ruz, leader of the Cuban revolution and emblem of the 20th century.
"Fidel Castro was a friend of Mexico, promoter of a bilateral relationship based on respect, dialogue and solidarity."
President of Venezuela Nicolás Maduro
"To all the revolutionaries of the world, we have to continue his legacy and his flag of independence, of socialism, of homeland."
President of Ecuador Rafael Correa
"He was a great one. Fidel is dead. Long live Cuba! Long live Latin America!"
Although Castro's protesters opposed him of brutally suppressing the opposition in the country, his supporters saw him as a man who gave the nation back to the people. His supporters in Havana also described him as a tireless defender of the poor.
Castro, in April, had given a speech on the final day of Cuba's Communist Party congress saying that the communist concepts of Cuba were still applicable and that the people of Cuba will emerge "victorious."
During the speech, he had also acknowledged his old age saying, "I'll soon be 90, "something I'd never imagined. Soon I'll be like all the others, "to all our turn must come."