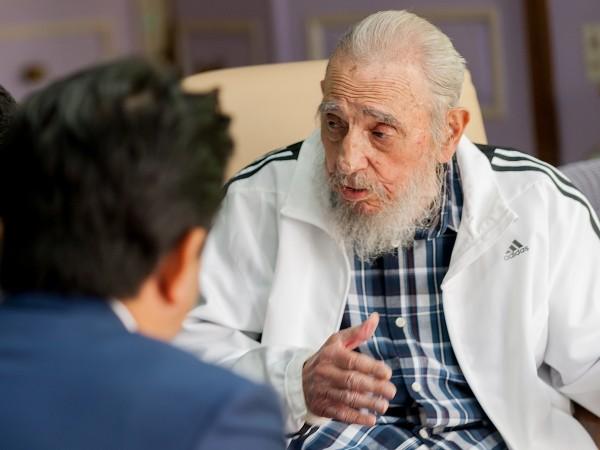 Former Cuban leader and politician Fidel Castro died on Friday night at the age of 90. Castro was a revolutionary leader who ruled Cuba as Prime Minister from 1959 to 1976 and then as President from 1976 to 2008.
"I extend my deepest condolences to the Government & people of Cuba on the sad demise of Fidel Castro. May his soul rest in peace. We stand in support with the Cuban Government and people in this tragic hour. Fidel Castro was one of the most iconic personalities of the 20th century. India mourns the loss of a great friend," Prime Minister Narendra Modi said in a series of tweets.
Here are 10 things that you probably didn't know about Castro:
World's third longest serving leader:
Castro was the third longest serving leader in the world, the first two being the Queen of Britain and the King of Thailand. He probably would have remained in power if illness had not forced him to hand over the reigns to his brother Raul Castro in July 2006.
Record for giving the longest speech:
Castro also has a place in the Guinness Book of Records. He holds the record title for delivering the longest speech ever at the United Nations. The speech was 4 hours and 29 minutes long and was delivered on September 29, 1960.
He delivered the longest speech in Cuba in 1986 at the Third Communist Party Congress in Havana. The speech was 7 hours and 10 minutes long.
Castro survived over 600 assassination attempts:
The former Cuban president and prime minister claimed to have survived 634 attempts made to assassinate him, mostly planned by the US Central Intelligence Agency. There were several attempts on his life and the ways involved poison pills, toxic cigar, exploding mollusks, chemically tainted diving suit and powder to make his beard fall out in an attempt to undermine his popularity.
Castro had once said: "If surviving assassination attempts were an Olympic event, I would win the gold medal."
He started wearing a beard and had practical reasons to do so. His beard was not just a symbol of a guerrilla fighter. He had once said: "If you calculate 15 minutes a day to shave, that is 5,000 minutes a year spent shaving." Castro added that he would prefer to spend his time doing more important work.
Marriage that ended in a divorce and how!
Castro married Mirta Diaz Balart, the daughter of a rich family tied to the Batista regime. They had a son named Fidelito in 1949. However, Mirta filed for divorce when Castro was still in prison. The leader's love letters to another Cuban socialite, Natalia Revuelta, and his letters to his wife Mirta were switched leading to the divorce. Revuelta had said in an interview that she believed the prison director had arranged the switch.
Family — Five sons whose names begin with 'A':
Castro has at least eight children. His eldest son Fidel Castro Diaz-Balart (from his first wife) is a Soviet-trained nuclear scientist. He has five sons — the names of whom begin with 'A' — with his second wife Dalia Soto.
He also has a daughter Alina Fernandez born out of an affair with a Havana socialite when he was underground in the 1950s. Fernandez escaped from Cuba disguised as a tourist in 1993 and openly criticised Castro on her Miami radio program.
Castro outlasted nine US presidents:
The late leader was in power for nearly five decades during which time there have been nine US presidents. He outlasted everyone from Eisenhower to Clinton despite CIA plots to assassinate him, an exile invasion at the Bay of Pigs backed by the US and four and a half decades of economic sanctions. Former US President George W. Bush had enforced strict financial sanctions and also a travel ban.
Castro was habituated to smoking cigars before finally giving it up in 1985. When asked about the harmful effects of smoking tobacco, he had said: "The best thing you can do with this box of cigars is to give them to your enemy."
Ubre Blanca — Castro's pet project:
A cow named Ubre Blanca (or White Udder) was one of Castro's pet projects that holds the Guinness Book of Records title for producing the highest quantity of milk in one day — 110 litres (29 US gallons). The cow was a propaganda tool for Cuba's agriculture in the 1980s.
Resolve to eliminate illiteracy:
Castro had said, at the UN in 1960, that he would eliminate illiteracy in the country within a year for which he had launched a massive campaign that involved teachers, workers and more than 100,000 young people to tutor others. This led to a decline in Cuba's illiteracy rate from 23 percent to 4 percent.