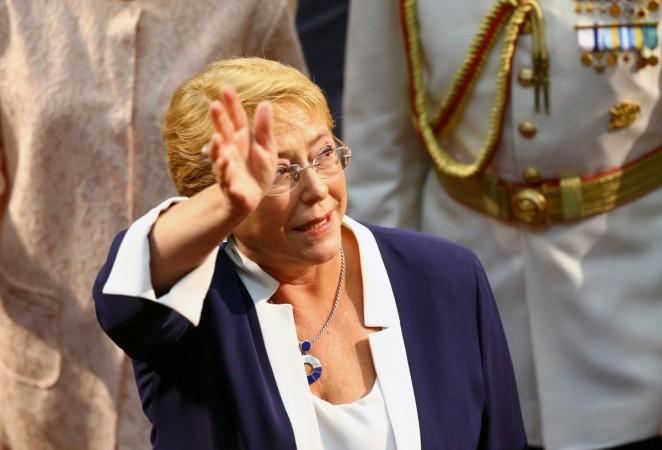 UN Secretary-General Antonio Guterres has nominated former Chilean President Michelle Bachelet to succeed controversial Zeid Ra'ad Al-Hussein as the UN High Commissioner for Human Rights.
Her nomination was sent by Guterres on Wednesday to the UN General Assembly which must approve the appointment.
Zeid's four-year term ends this month and General Assembly President Miroslav Lajcak had convened a session on August 3 to consider her nomination.
Zeid decided not to seek a second term for which he was eligible.
Bachelet, who completed a second term as Chile's President in March, had personally experienced human rights violations during the military dictatorship of Augusto Pinochet.
She also has done advanced studies in defence in the US and served as health and defence minister -- unique qualifications for a human rights chief who must confront military organisations involved in human rights violations that inflict physical and mental harm.
Bachelet now faces a task of reestablishing the credibility of her office and of the UN Human Rights Council, which have come under attack during Zeid's stormy tenure.
India had accused Zeid of being biased after he had issued a report on human rights violations in Jammu and Kashmir and called for a Security Council investigation.
India had slammed the report and Deputy Permanent Representative Tanmaya Lal had said that it reflected "the clear bias of an official who was acting without any mandate whatsoever and relied on unverified sources of information".
The US pulled out of the Human Rights Council in June with Permanent Representative Nikki Haley calling it a "hypocritical and self-serving organization that makes a mockery of human rights".
Bachelet's father, Air Force Brigadier General Alberto Arturo Miguel Bachelet Martinez, had died in custody after being tortured following his arrest by Pinochet who overthrew the democratically elected President Salvador Allende in 1973.
She herself was detained and tortured before being exiled to Australia.
She moved to what was then East Germany before being allowed to return to Chile in 1979 and resume her medical studies.
After Pinochet's defeat in a referendum in 1988 and the restoration of democracy, she received a scholarship to study at the Inter-American Defense College in Washington.
She was first elected president in 2005 but could not seek re-election as the constitution prohibits the head of state from holding two consecutive terms.
Bachelet joined the UN in 2010 as the executive director of UN Women, the office for empowering women and for gender equality. She was again elected president in 2013.