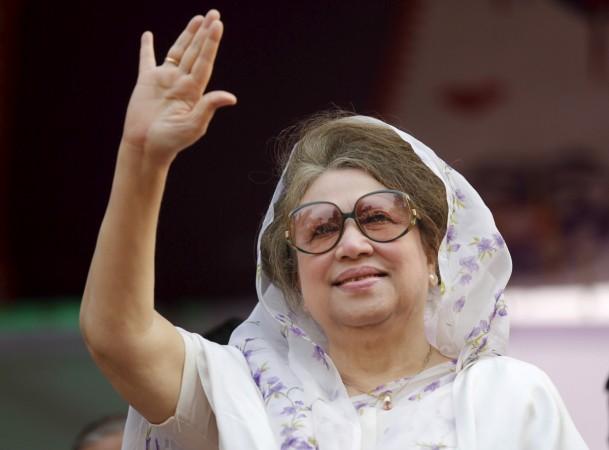 A court in Bangladesh on Monday awarded another seven years jail term to former Prime Minister Khaleda Zia in connection with a corruption case related to Zia Charitable Trust.
In addition to the former PM, who is already serving jail term since February, three others including Harris Chowdhury, Ziaul Islam Munna, and Monirul Islam Khan were also found guilty of abusing their power and raising funds for the trust from unknown sources.
The court announced its verdict in absentia of the 73-year-old. She is currently undergoing treatment in hospital for various ailments.
Khaleda Zia was given highest punishment for her audacious step to form a trust while serving as the PM and collecting funds from people for personal use, reported the Daily Star.
The verdict was passed by Judge Md Akhtaruzzaman of the Special Court-5 after the Supreme Court earlier today rejected a leave-to-appeal petition filed by Khaleda challenging the High Court judgement that allowed a lower court to continue the trial in the graft case in her absence, reported the Daily Star.
A revision petition filed by Khaleda Zia in the High Court (HC) on September 27 seeking to halt the proceedings was rejected by the court, paving the way for the trial court to continue the hearing against her.
The Zia Charitable Trust graft case was filed by the Anti-Corruption Commission (ACC) against Khaleda Zia and her three accomplices in August 2011.
In February, Zia was given five years jail term for corruption related to embezzlement of money from an orphanage.
The latest court verdict ahead of the general election scheduled to be held in December is being seen as a setback for her Bangladesh Nationalist Party (BNP).
This is the second blow for Khaleda Zia after her eldest son Tarique Rahman, who lives in exile in London, was found guilty of masterminding a grenade attack on the political rally of Sheikh Hasina in 2004. At least 20 people were killed in the attack.