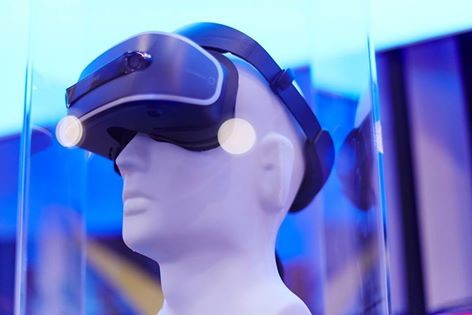 For almost ten times cheaper than what Microsoft is offering its HoloLens for, Lenovo's new VR headset based on Microsoft's Windows Holographic platform is going to impress you. Well, there are certain limitations to Lenovo's first VR headset, which is yet to be named, but it is still going to be a notable addition to the world of VR headsets.
Lenovo's VR headset limits itself from projecting 3D holograms on the user's field of vision, instead it will scan the real-world items and show them in VR, making it a mixed-reality headset. Since the prototype shown at the CES 2017 in Las Vegas, the design of Lenovo's VR headset is what is truly inspiring.
Lenovo VR headset is said to be significantly lighter than most advanced VR headsets out there in the market, such as Oculus Rift and HTC Vive. The headband design combined with flip-up front makes it more comfortable to wear, use and switch between VR and real world easily.
Diving into the technical aspect of the Lenovo headset, the company said it has two 1440x1440 OLED panels working as the display and six degrees-of-freedom tracking, which eliminates the need of external camera. The two cameras in the front make the headset compatible with mixed-reality apps and the company also said that it will support every Windows Store app, The Verge reported.
Due to the non-functionality of the headset, a lot of questions about Lenovo's VR offering remain a mystery. For instance, it is unclear just how well the headset's tracking functionality works or how Windows Holographic's implementation will pan out.
Lenovo is also not offering any motion controllers with the headset, so buyers will have to resort to third party options. One thing is clear though, Lenovo is planning to make its VR headset available at an affordable cost. According to the Chinese tech giant, the headsets will arrive sometime this year costing closer to $300.