Ever since the world was introduced to the iPhone X and Google Pixel 2, the prospect of settling for an ordinary camera in a flagship smartphone has disappeared. In 2018, the benchmark for a high-end smartphone camera is too high, and it remains to be seen how companies satisfy consumers.
Since it is the beginning of the year, all eyes are on Samsung, which traditionally upgrades its Galaxy S line of flagship smartphones in the first quarter. This year, the South Korean tech titan is going to make the big announcement at MWC 2018 next month, but inquisitive fans are already getting sneak peeks into what's coming.
Dual camera or not, Samsung Galaxy S9 and S9+ smartphones are going to have their fair share of stardom at the beginning of the year. But as rivals like Apple and Google have set the new standard, it is important that Samsung doesn't disappoint fans.
Rumours about a dual-camera setup in the Galaxy S9+ have been prominent, but the smaller Galaxy S9 is widely believed to have a single lens. This may sound disappointing to many anticipating fans, but a fresh leak of what appears to be the Galaxy S9's retail box is sure to cheer them up.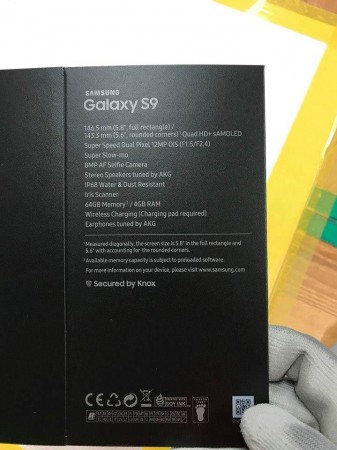 As in the case of any phone's retail packaging where the key specifications of the device are printed for reference purposes, the leaked image of the Galaxy S9 box is no different. Most of the specifications shown on the box look identical to those of the Galaxy S8, but before you sulk into disappointment, there's something worth watching out for.
Focus on camera
The box mentions a Dual Pixel 12MP camera with OIS for the Galaxy S9. Alongside that, there are two aperture sizes mention in parentheses — f/1.5 and f/2.4. Last we heard of a variable aperture was in the Samsung W2018 high-end flip phone that the company launched exclusively in China last year.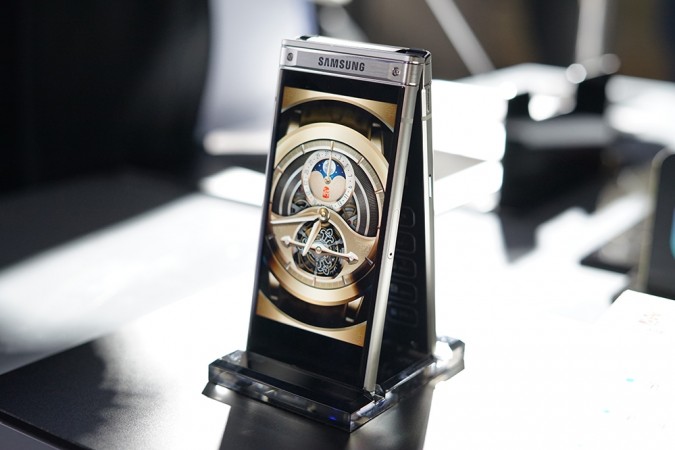 What's so great about variable aperture, you might ask. Here's what it entails.
A single-lens camera with variable aperture hasn't been around since the days of Nokia N86. The leak shows that the Samsung Galaxy S9 camera will have an incredibly large f/1.5 aperture backed with OIS, but it can also switch to f/2.4 in ideal lighting conditions for a deeper depth of field. This satisfies the craving for a dual-camera setup capable of shooting those DSLR-level portraits on the phone.
It's really interesting to see the minimalistic propaganda for some high-tech integration delivering high-quality images. Taking a page out of Google's playbook, eh?
It is too soon to predict the capabilities of the Galaxy S9 camera at this moment, but the box does mention Super Slow-mo videos, which will likely record at an incredible 1,000fps. This will give a stiff competition to Sony Xperia phones that come equipped with 960fps slow-motion recording, which is simply mind-blowing.
The rest of the Galaxy S9...
We've deciphered the camera upgrade in the Galaxy S9 based solely on what's shown on the box, but the company is yet to confirm this. It'll happen only at the MWC in Spain next month.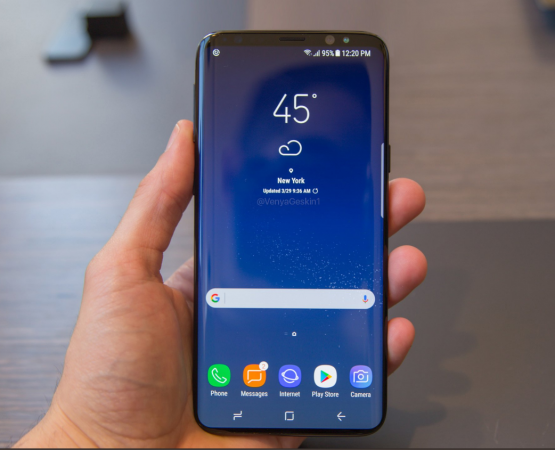 If the leaked image holds any credibility, then the Galaxy S9 is likely to sport a 5.8-inch QHD+ Super AMOLED display, have IP68 dust and water resistance, an iris scanner, 4GB RAM, 64GB storage, an 8MP front camera and wireless-charging support.
Interestingly, the phone is to come with earphone stereo speakers tuned by AKG.
Even with such exciting stuff about the Galaxy S9, it all comes from a totally unreliable source and couldn't be independently confirmed by IBTimes India. It could be the real deal or a really good job of Photoshop. We'll only find out at the Unpacked 2018 event next month.