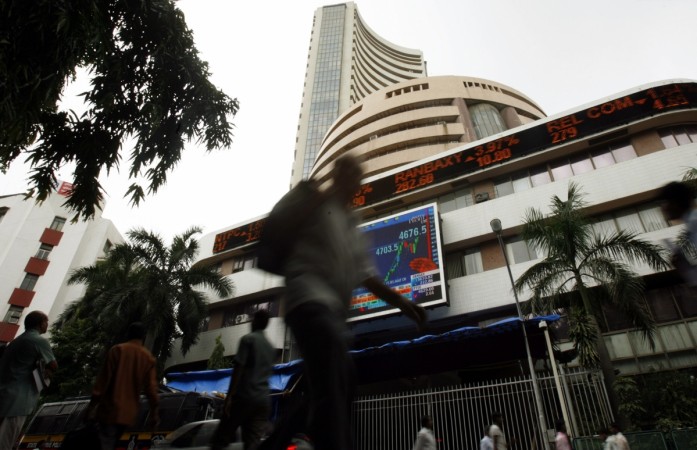 The Sensex could see another sharp decline during the week after having shed over 600 points last Friday, tracking panic selling on global currency and equity markets over Britain leaving the European Union. Foreign institutional investors (FIIs/FPIs) may resort to heavy sell-off on Indian stock markets as they did in 2015 and in previous years, suggests historical data. This would then trigger another fall in equities on the Indian bourses.
The Sensex crashed by over 1,000 points on "Black Friday", the day results of the referendum showed Britain's exit from the European Union (EU) is a done deal. The benchmark index rebounded later and trimmed losses to 605 points, or 2.24 percent, apparently on assurances by Finance Minister Arun Jaitley and RBI Governor Raghuram Rajan. The NSE Nifty 50 saw a similar fall, losing 182 points.
In 2015, when the Chinese currency was devalued, FIIs (FPIs) sold Indian equities worth Rs. 21,000 crore during August-September, coinciding with the Sensex plunging over 2,000 points, according to a Business Standard report. An encore is possible this time as well, according to an analyst.
"There could be some repositioning of weights among emerging markets (EMs) and investors might redeem their funds. So, we could expect FPI sell-off to continue", U R Bhat, managing director at Dalton Capital Advisors, told the daily.
Some analysts are of the view that the pullback, even it happens, would be a blip, given India's strong economic fundamentals and investment opportunities when compared to its peers in the emerging markets space. "India will be less impacted even if FIIs pullback from EMs," Dipen Shah, senior vice-president at Kotak Securities, told the Business Standard, but added a cut in allocation to EMs was likely.
The end of the week would bring auto stocks in focus after the companies announce their sales data for June. Some of the auto stocks that took a beating on Friday included Tata Steel and Motherson Sumi Systems, each falling over 7 percent.
Indian IT companies with significant exposure to the U.K. would also remain vulnerable on Monday.
Surprise rally
For all the pessimistic predictions, there could be a surprise in store if investors see a scope for value-buying. There was actually buying by retail investors in the mutual fund space.
"It's the initial stage of this one-off kind of event (Brexit). However, there was no panic among retail investors. Rather, they have been buying," Sunil Singhania, CIO of Reliance MF, told the Business Standard.
After all, markets were in for a surprise when the Sensex gained 240 points, contrary to widespread expectations that RBI Governor Raghuram Rajan making it clear on June 18 that a second term for him was not on the cards. Of course market sentiments were also boosted by radical changes in foreign direct investment (FDI) norms encompassing civil aviation, defence, retail and pharma sectors announced by the Narendra Modi government on the same day.