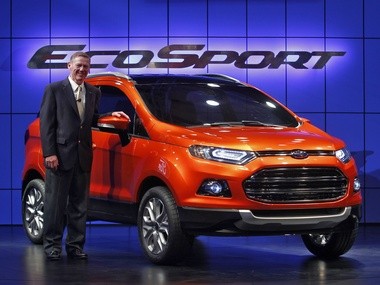 Ford Motor Company's 1.0 litre EcoBoost petrol engine has been awarded the '2013 International Engine of the Year' title.
The EcoBoost petrol engine which powers the new EcoSport compact SUV and Fusion model has been credited with many other titles before. The company is expected to launch the same engine in India.
"With a technology as mature as the internal combustion engine, it's very rare to achieve a true breakthrough, but that is exactly what the team accomplished with this engine. You have to drive it to believe a small three-cylinder engine can deliver such performance and fuel economy," said Vice President of Ford, Global Powertrain, Joe Bakaj.
Meanwhile, the much-anticipated launch of EcoSport in India is expected to take place in the latter part of June. The SUV was initially expected to make a debut on 11 June. Ford India is yet to confirm the launch date of the vehicle.
"The Ford Ecosport will be launched in the second half of this month, mostly in the last 10 days," reported Business Standard.
The India-bound EcoSport version is expected to come in four trims - Ambiente, Trend, Titanium and Titanium Optional trims. The official brochure leaked earlier this week suggested that the 1.5-litre petrol MT variant of EcoSport will be available in three variants - Ambiente, Trend and Titanium, while the 1.5-litre AT will be offered only in the Titanium variant. The EcoSport SUV will be launched in seven colour variants and the interior will come in two colour options - charcoal black + warm neutral gray (offered on all variants except on Titanium (O)) and charcoal black + dark shadow gray (exclusive for the top end Titanium (O) model).
According to reports, the pricing of the vehicle for the Indian market will be revealed in the second half of June, and the company will begin sales either on the same day of the launch or in July.