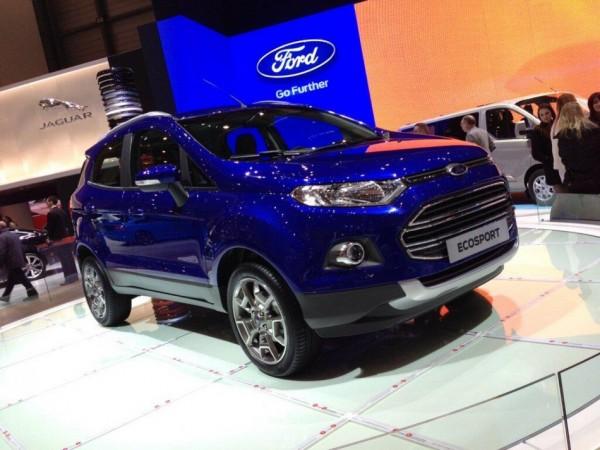 After receiving a soft launch in Kochi Kerala, Ford's compact SUV EcoSport got public unveiling in Jaipur and Chennai on Friday.
The EcoSport SUV, which is making its public display in 12 cities, out of which Mumbai, Delhi, Bangalore and Chandigarh, Kochi have witnessed, is currently on display at Jaipur Pink Mall and Chennai Express Avenue Mall (from 12 to 14 April). The car will be heading to other cities like Ahmedabad, Pune, Hyderabad and Kolkata in the coming days.
Speaking about the campaign, Joginder Singh, Ford India President and Managing Director said, "Consumers across these 12 cities will have an opportunity to see, touch and feel their EcoSport every weekend leading up to the launch. We have taken a step further by giving them an opportunity to drive and experience compact Sports Utility Vehicle (SUV) out in the open and share their product experience."
Ford India is reportedly receiving overwhelming responses from its marketing campaigns and the company is likely to continue it till the end of May. According to a recent report, Ford will unveil the compact SUV by mid-June, soon after the completion of Ford India's Urban Discoveries campaign.
The EcoSport, which made its debut in countries like like Brazil, Mexico and China, will come to India come with a 1-litre EcoBoost petrol engine that will give 120bhp power, or the 1.5L diesel engine which would offer 90bhp.
The petrol EcoBoost EcoSport is expected to deliver a mileage of 17 kilometres per litre. Last week, the Economic Times, citing an insider, reported that the base model of EcoSport would be priced ₹5.9 - ₹6 lakh and the high-end variants would be priced in the ₹9 lakh bracket.
The SUV is likely to be positioned as a compact sub-4 metre SUV, which would exempt it from additional excise duty. Ford's new offering will compete with Renault Duster, Mahindra Quanto and Premier Rio.