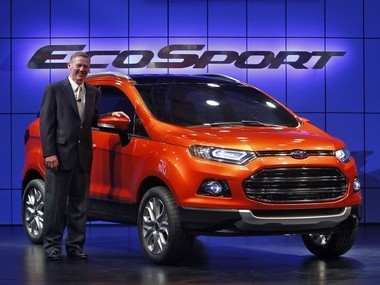 Ford's EcoSport SUV is all set to cost more in India from September onwards, as the company plans to hike prices of all its vehicles in the sub-continent market.
Ford India on Thursday said it has increased the price of its models in India by upto five percent with immediate effect, as an effort to meet the rising input costs. Ford did not reveal details about the models which face the price hike, but reports suggest that popular vehicles like Fiesta and Figo, along with the much-acclaimed EcoSport, will be among them.
"Effective September 5, 2013, the prices will be increased in the range of 1 per cent to 5 per cent across majority of Ford's products depending on specific model and trim," Ford India said in a statement, according to PTI.
The company cited factors like the rupee fall, high interest rates and inflation as reasons for the rising input costs.
"Input costs have been consistently increasing and this is expected to continue for the foreseeable future. Although we have absorbed increases in costs over the past period, the situation is such that we now need to revise the prices of our vehicles," said Ford India executive director (marketing, sales and service) Vinay Piparsania.
The company has managed to post strong sales for the month of August in India with its recently launched EcoSport. The aggressive pricing strategy adopted in the domestic market is cited as one of the reasons for the increased demand for compact SUV. Now, with the announcement of the price hike, there are concerns about the EcoSport sales in the country. However, as of now the demand for EcoSport is still high, due to which Ford is forced to suspend the bookings of the vehicle across the sub-continent.
Ford EcoSport Overview
Available in 10 variants, four trim levels- Ambiente,Trend ,Titanium and Titanium (O)
1.5L petrol (Ambiente, Trend and Titanium)
1.5L diesel (Ambiente, Trend, Titanium and Titanium (O))
1.0L EcoBoost engine (Titanium and Titanium (O))
Prices (Before hike)
1.5L petrol MT - ₹5.59 lakh
1.5L diesel - ₹6.69 lakh
1.0L EcoBoost - ₹7.89 lakh
1.5L Petrol Auto - ₹8.44 lakh