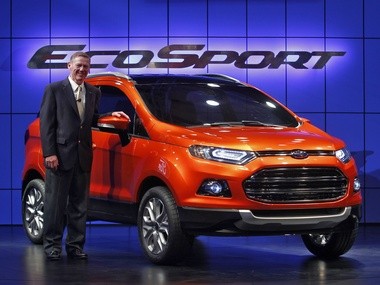 Ford's new EcoSport SUV is expected be priced lower in the Indian market to take on auto major Maruti and Hyundai.
The Economic Times citing an insider reported that the base model of EcoSport will be priced ₹5.9-6 lakh and the high-end variants will be priced in the ₹9 lakh bracket.
The source added that the new compact SUV will be competitively priced in the Indian market thanks to Ford's export business strategy. The companyis expected to ship 40-45 percent of the total annual production EcoSport SUV units. If the report rings true, EcoSport will come for a cheaper price than Renault Duster which is priced ₹7.19 lakh.
"The initial launch price of the compact EcoSport SUV will be Rs 5.9-6 lakh, much lower than Renault Duster's launch price of RS 7.19 lakh. Higher variants will command a higher price, but Ford has worked out the pricing in such a way that the top-most EcoSport variant, at around 9 lakh, will still be cheaper than the Duster's Rs 11 lakh," ET reported.
The pricing of the EcoSport is also likely to challenge India's current auto market leaders Maruti and Hyundai as the vehicle is priced lower than the DZire and i20's top variants. This essentially means that customers can now purchase an SUV at price lower than that of a premium hatchback or compact sedan.
EcoSport is likely to be positioned as a compact sub-4 metre SUV, which would exempt it from additional excise duty. The 2013 annual budget which proposed to increase the excise duty on SUVs maintained that SUVs measuring less than four metres in length and with engine capacity less than 1.5-litre do not have to bear the additional taxation.
The vehicle will feature new technologies like Bluetooth Sync, rear parking sensor and hill climb assist. It is also expected to come with a 1-litre EcoBoost petrol engine which gives 120bhp power, or the 1.5L diesel engine which would offer 90bhp. The petrol EcoBoost EcoSport version is expected to deliver a mileage of 17 kilometres per litre.
"Scale brings in efficiency, it helps companies deliver capacity and get a better rate from the vendors and suppliers; it helps you keep your cost in check in high inflationary scenario and that's what global manufacturers really get to the table, that's what Ford has got to the table, with its ability," Ford told ET.