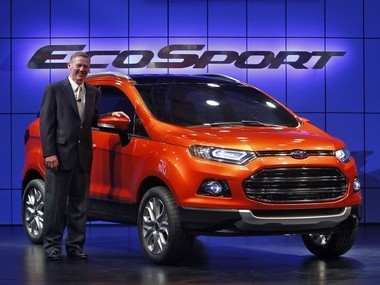 India's wait for Ford EcoSport finally saw an end on Wednesday. The much anticipated compact SUV made its way to the country with a price tag starting from ₹5.59 lakh.
The vehicle will be available in seven colour options and 38 accessories. Under the hood, EcoSport comes with 1.5L petrol, 1.5L diesel and the 1.0L EcoBoost engine. The 1.5L petrol engine is expected to give 112 PS power and 140 Nm torque. It will come in both manual and automatic transmissions. The manual transmission model claims to give a mileage of 15.8 kmpl, while the automatic model is expects to deliver 15.6 kmpl. The revolutionary EcoBoost EcoSport engine will churn out a power of 125 PS and 170 Nm torque along with a mileage of 18.9 kmpl. The diesel variant of EcoSport is the most fuel efficient among all models and is expected to deliver a mileage of 22.7 kmpl. Ford will begin EcoSport sales from Wednesday itself.
The vehicle, which is pitted against Renault Duster, Mahindra Quanto and Premier Rio, will decisively challenge India's current auto market leaders - Maruti and Hyundai. The vehicle is also priced to compete with the DZire and other fast moving hatchbacks in the country. The price seems low when compared to Duster's ₹8.04 lakh price tag. With EcoSport being a strong contender, the domestic auto market watchers are eagerly waiting to see the response towards the vehicle. It is to be noted that Renault Duster had received an overwhelming response in the country since its launch.
Listed below are the prices of Ford's Ecosport SUV:
1.5L petrol MT - ₹5.59 lakh
1.5L diesel - ₹6.69 lakh
1.0L EcoBoost - ₹7.89 lakh
1.5L Petrol Auto - ₹8.44 lakh