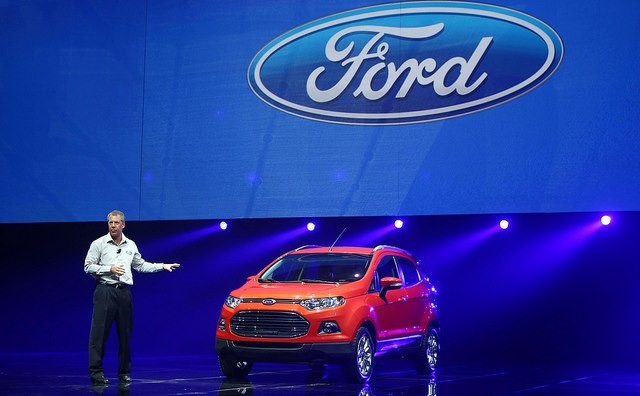 Ford's much-anticipated EcoSport SUV had a soft launch in Kochi, Kerala as part of company's 12-city campaign road show.
The EcoSport SUV, which is making its public display in 12 cities, out of which Mumbai, Delhi, Bangalore and Chandigarh have already had a public viewing, will be shown at Jaipur Pink Mall and Chennai Express Avenue Mall from 12 to 14 April. Residents in Kochi can head down to Kochi Lulu Mall for the display event from 5 to 7 April.
The vehicle, which had made its debut in several countries like Brazil, Mexico and China, is yet to get an official unveiling in India. Surprisingly, Ford remains silent on the launch of the car in India.
In India, the vehicle is expected to come with a 1-litre EcoBoost petrol engine that will give 120bhp power, or the 1.5L diesel engine which would offer 90bhp.
The petrol EcoBoost EcoSport is expected to deliver a mileage of 17 kilometres per litre. Last week the Economic Times citing an insider reported that the base model of EcoSport will be priced ₹5.9 - 6 lakh and the high-end variants will be priced in the ₹9 lakh bracket.
According to reports, EcoSport is likely to be positioned as a compact sub-4 metre SUV, which would exempt it from additional excise duty.
"Scale brings in efficiency, it helps companies deliver capacity and get a better rate from the vendors and suppliers; it helps you keep your cost in check in high inflationary scenario and that's what global manufacturers really get to the table, that's what Ford has got to the table, with its ability," Ford told ET.
Earlier reports suggested that the vehicle would hit the Indian market by June, but Ford India is yet to confirm this.