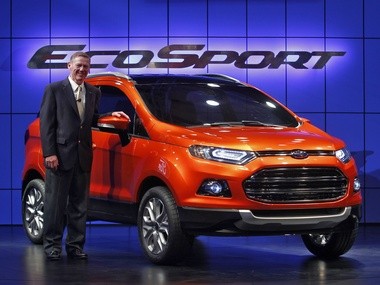 American auto major Ford has begun shipments of its much awaited EcoSport SUV to dealers across the country from its Chennai facility.
The company, which is yet to confirm the pricing of EcoSport for the Indian market, aims to grab greater footholds with the launch of the vehicle in the nation's sluggish auto sector.
"We are on the verge of something exciting for Ford India. As you know the next game changer for us, and we believe it is not only a game changer for Ford in India, but we are going to set a new standard in the industry as well," said Ford India President and Managing Director Joginder Singh.
"As you know, our shipments have begun and our dealers are accepting bookings as we speak.so, we see a very clear milestone in the launch of Ecosport."
Ford's Chennai unit is the third of five manufacturing capacities where EcoSport is being built. While the manufacturing in Brazil and China has already started, the Thailand and Russia production capacities are in line to begin production. An earlier report also suggested that the company is planning to explore the potential markets of 62 countries across the globe for its new EcoSport SUV.
India is all set to become the export hub for the vehicle. Ford, which foresees a greater potential for the SUV in the domestic market, has invested $142 million for the production of the vehicle.
"India is a great market and is the lead edge indicator as to what people want in the world," said Ford Motor Company President and CEO Alan Mulally. "We are going to pay more attention to this segment. You will see more products in that segment."
Taking note of the reactions from EcoSport aficionados, the delay in the launch in India has come as a major disappointment.