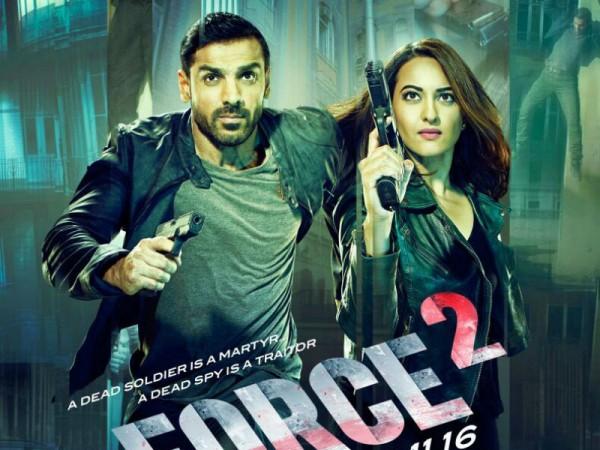 Cast: John Abraham, Sonakshi Sinha, Tahir Raj Bhasin
Director: Abhinay Deo
Rating: 1.75/5
He is a fearless cop who has no qualms about looking death in the face as he has lost his wife and has no reason to live. Inspector Yashvardhan Singh (John Abraham) is aggressive, cold and is intent on wiping out the bad guys. One day Yash finds out that he has lost his best friend, a RAW agent, and coincidentally his friend sends him clues on an Indian spy who is leaking information to the Chinese. He goes to the RAW headquarters to reveal this and ends up working with KK (Sonakshi Sinha) on the case to nab the spy. What happens on this chase? Who is the spy and do they nab him?
In the first few scenes of the film, we see John Abraham take his shirt off to display his ripping muscles and big biceps. And we end up seeing more such similar scenes throughout the film. The beefed up actor is good in the action scenes as they have obviously been tailor-made for him. However, he sports the same stoic expression throughout the film and it leaves you wondering if he's capable of anything more than that.
KK or Sonakshi Sinha plays the exciting role of a RAW agent but the role has been watered down so much that she's just an actress carrying a gun. She hardly has any action scenes and her dialogues leave a lot to be desired. Sample this - 'This is bad Yash,' she says when the spy is believed to have been shot dead.
Speaking of performances, one person who has outshone the lead pair is Tahir Raj Bhasin. This talented actor packs a punch on screen and despite being smaller than John, outsizes him in the acting department.
Director Abhinay Deo has tried to churn out a high-octane action film and to a great extent he has succeeded. The film is filled with action and hardly anything else! The director wants to show the plight of RAW agents but the storyline is a tad thin and in this he fails. As a result, his intentions — though good — have not been adequately translated on screen. Considering it is a film about RAW agents, they come across as quite incompetent and sadly, dumb. Deo has made sure that John Abraham gets ample footage in the action scenes and we see the hero do everything, from ride bikes and cars to shoot and yes, even stave off men in his towel.
One major highlight of the film is the cinematography and how they have shot the scenes. Imre Juhasz and Mohana Krishna must be commended for the brilliant job on this. Whether it is a car chase or the aerial shots or the skyline of Budapest, the images make an impact on the viewer.
And we mustn't forget Genelia Deshmukh who was part of Force. She comes into this film like a breath of fresh air, making you wish that she was still acting in films.
Force 2 is a film that is all action but unfortunately it is not a force to reckon with.