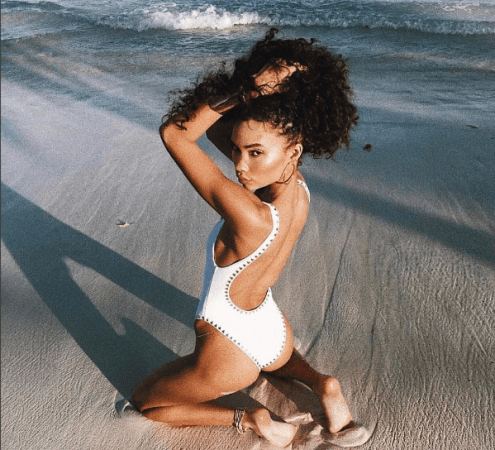 Summer is here and every celebrity is flaunting their summer bodies. Displaying their sensual curves, it looks like Mexico is becoming a celebrity favourite destination this summer. After the Kardashian sisters hit the beaches to show off their bootylicious bodies, model Ashley Moore decided to turn up the heat on the Mexican beaches in her bikini body.
Also Read: Kourtney's naked cartwheels and Kim's thong welcome the summer in style!
The Justin Bieber ex flaunted her slender body in a retro two-piece bikini on the beaches of Tulum in Mexico. The 23-year-old went old-school as she displayed her curves in trendy high-rise bikini leaving almost nothing to imagine.
The red hot bikini highlighted her petite waist and long legs, almost giving a sneak peek of her modesty. The model was spotted walking down the beach with a male friend with her hair tied in an orange bandana and completed the look with red round shaped sunglasses, as reported by Daily Mail UK. She kept her jewellery minimal with gold chain hung down her neck.
The deep V neckline gave onlookers a good look of her busty curves without hindering the view of her toned abs. The triangle top dived into a deep back that held the straps to the waistband; her peachy derriere was almost visible in her skimpy designed underpants.
Pouting away from the camera, Moore shows off her two-piece bikini as she sat on a cane swing in her new Instagram post. The picture captioned: "Taking it all in"
Moore is evidently having a great time as she has been actively posting pictures from her trip with fans. Among the few new posts, one that caught our attention was a sensual booty dance video she posted a few hours ago.
The black and white video shows Moore shaking off her booty to the camera. The short video was shot by her friend, she is again seen in a skimpy pair of bikini.
Off with her set of male friends, the beauty left her rumoured flame Justin Bieber far back home. The two were first linked in August 2013 and Daily Mail UK reports that the two were spotted getting rather comfortable at celebrity-favoured eatery Bouchon in Bieber's silver Ferrari coupé.