In the past few weeks, Pakistan has blamed India for doing a lot of things to destabilise it -- from targeting Pakistani armed forces and civilians to promoting human rights violations in Kashmir to spying in Islamabad and trying to sabotage the China-Pakistan Economic Corridor. However, the latest salvo fired by Pakistan seems to have dwarfed all its previous accusations: that India is now the cause of air pollution in Lahore.
Relying on a Nasa forecast (that doesn't necessarily make a causal link between the two), a Pakistani media outlet has alleged that rather than vehicular and industrial emissions, the burning of 32 million tons of leftover straw by Indian farmers is causing high levels of "fires and thermal anomalies" and thus putting millions living in Pakistan's Punjab at risk.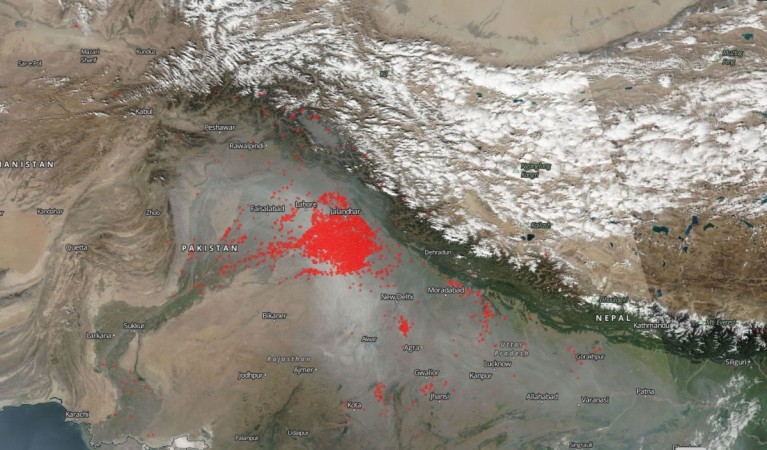 And if that was not enough, "extravagant fireworks in Diwali celebrations" has also been cited as a contributory factor to the rise in air pollution in Pakistan, according to a report by the Daily Pakistan.
The report also cites Dr Qamar uz Zaman Chaudhry, a national climate change expert and former director general of Pakistan's Meteorological Department, who believes that coal-based industries in India's eastern Punjab region are contributing to the air pollution in Pakistan.
The report adds that similar to the conditions of low visibility in Delhi, Lahore and other areas of northern and central Punjab have been engulfed by a thick layer of smog.
"Unfortunately, in Pakistan, we lack the equipment for real-time monitoring of air quality," Dr Sajid Rashid of Principal Environment College, University of Punjab, was quoted saying to DP Global by the Daily Pakistan, while adding that paddy stubble burning by Indians is the main reason for the rising level of smoke in the air.