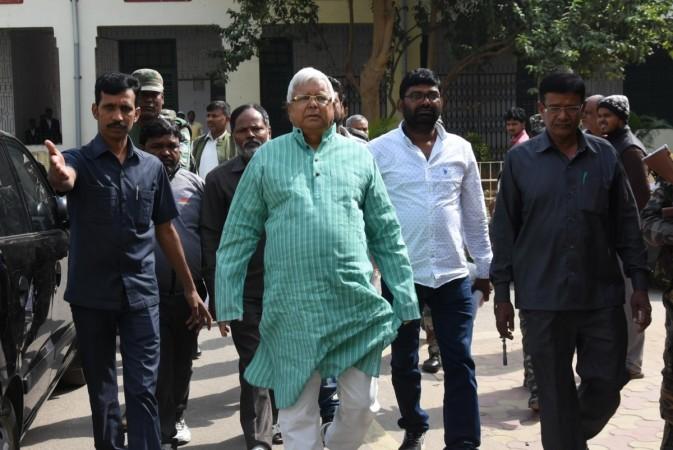 A special Central Bureau of Investigation court sentenced Rashtriya Janata Dal chief Lalu Yadav to seven years in prison in the fourth fodder scam case.
CBI court judge Shivpal Singh had Monday, March 19, convicted Yadav in the case and had also directed the former chief minister of Bihar to pay a fine of Rs 30 lakh.
Here are some quick facts on the fodder scam and Yadav's role.
The scam is connected to the fraudulent withdrawal of Rs 3.13 crore from the Dumka treasury in the 1990s.
The transactions were reportedly made between December 1995 and January 1996.
Yadav and his team are likely to move the high court in regards to the conviction and the quantum of the sentence.
"The sentencing will be pronounced on Friday and it is only after the quantum of punishment we will decide on moving the high court in the case," Yadav's lawyer Prabhat Kumar was quoted as saying by Business Standard.
The case also involved 31 others, including former chief minister Jagannath Mishra. He was acquitted on March 19.
This is the fourth fodder scam case out of the six cases registered against Yadav about 22 years ago.
The first case was for a fraudulent withdrawal of Rs 37.70 crore from the Chaibasa treasury.
Even though he was released after 77 days, the special CBI court convicted him in the second scam case – withdrawal of Rs 89.27 lakh from Deoghar treasury.
The fifth case in regards to fraudulent withdrawal of Rs 139 crore from the Doranda treasury in Ranchi is still in court.
The fifth case involves about 120 people.
Yadav is currently lodged at the Birsa Munda Central Jail in Ranchi.
Yadav cannot contest polls or hold office due to the conviction.