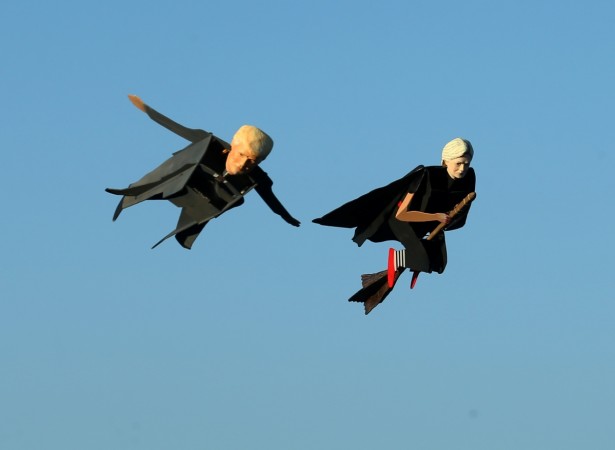 Is it a bird? No. Is it a plane? Yes. It's Donald Trump and Hillary Clinton flying around up in the sky.
In an air show art project like no other, radio-controlled life-size inanimate figures of Republican Party presidential candidate Donald Trump and Democratic Party presidential candidate Hillary Clinton designed into model planes can be seen flying across the clear blue sky around a picturesque coastline of a California beach.
The video titled Flying Hillary Witch and Donald Moneybags begins with the Donald Trump doll soaring around clouds as excerpts of his speeches play in the background.
"I'm really rich. Turns out I'm really rich. I'm richer than anybody knew. Oh did I get rich. I made billions and billions of dollars and billions of dollars. That's what I do. I made a lot of Money. I made a tremendous amount of money. Money, money I want more money." While he flies around, money drops from the model plane.
And suddenly Hillary Clinton makes an entrance with maniacal laughter in the background as she flies across the cloudy sky on a broomstick. An excerpt from Hillary's interviews plays in the background. "He is a loose cannon and loose cannons tend to misfire." The two can then be seen flying around together with audio clips playing in the background of this short, one-minute long video.
Otto Dieffenbach III, an engineer and a former U.S. Air Force test pilot is the founder of the Flyguy promotions company and the brains behind this video. Flyguy promotes, markets and advertises projects very uniquely, and they create 'identifiable flying objects' (IFOs) . These aerial objects include logos, mascots, celebrities, boxed/canned products and billboards.
Some of their other noteworthy aerial experiments include iconic characters from comic books such as Iron Man, Superman. They also had a successful kickstarter campaign to build and fly the phone booth Tardis from the hit t.v. show Doctor Who at Comicon.
But Otto didn't stop there. He makes everything fly including giant energy drinks such as monster and redbull , flying R-2 D-2 from star wars, flying snoopy from the comic 'Peanuts' and even flying Elvis.
What is the cost of these flying dolls? Their website says 'depending on complexity and materials, prices range from $1,000 USD to over $15,000 USD for the computer cut 3D IFOs.'
They also sell ready to fly (RTF) kits. RTF Flyguy 62 Basic Version 2.5 will set you back by $750 for the unpainted version and $1000 with your paint scheme and head image. Similarly the RTF Witch will cost you $1850.
With their services, the sky is the limit, but first you need to let your imagination fly to choose the right IFO. Here are some pictures of their latest flight: