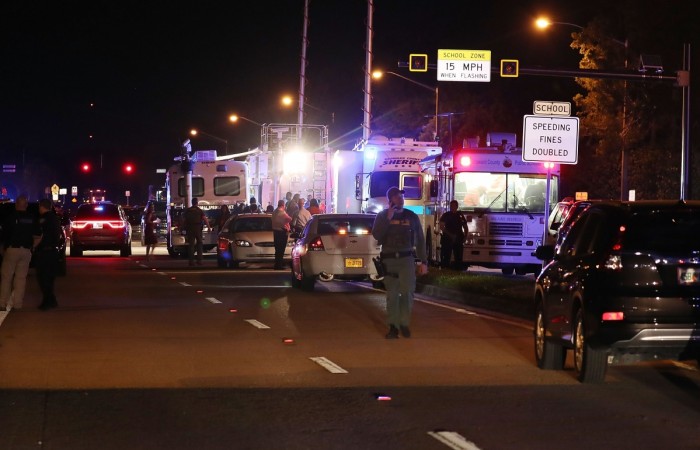 Just a few days after 17 people, including 14 students, were killed after a teenager opened fire at a high school in Florida, the US state has passed a bill to control the growing gun violence Wednesday.
Here are 10 things to know about the bill:
1) The bill— Marjory Stoneman Douglas High School Public Safety Act— named after the shooting at the Florida school in February was passed by the Senate Tuesday and then passed by the passed the legislature's lower house.
2) If signed Governor Rick Scott, the bill will change the minimum age for all gun purchases from 18 to 21. If the age is raised, then this provision of the bill will be similar to the Federal law, which states that dealers will not sell a handgun or ammunition for a handgun to any person below 21 years of age, reported New York Times.
3) Secondly, people in Florida except for cops, military men, and licensed hunters, would have to wait for three days, during which they will undergo a background check before being handed over the guns.
4) The bill would also make it illegal to own bump stocks in Florida. Bump stocks are devices, which when attached to rifles helps the weapon to fire with the same speed as fully automatic machine guns.
5) Another provision of the bill is local sheriffs would be allowed to arm school staff. These armed "guardians" will have to undergo special 12-hour training, mental health and drug screening before being given the license to carry a concealed weapon, said Zee News. However, this aspect of the bill may not be foolproof considering the recent incident where a teacher in the Dalton High School of Georgia, barricaded himself inside the classroom and opened fire.
6) The bill would also ensure a fund to secure the school premises. Around millions of dollars will be used to secure the buildings of the educational institutions and also employ based police officers in schools.
7) The state of Florida will also allocate a fund to provide mental health care to the students, reported NYT.
8) Moreover, the bill will also forbid people who were sent to mental institutions and deemed mentally incompetent by a judge from owning weapons. If made into a law, the bill would also allow the Florida police to abolish a person, who is considered dangerous, from owning guns for up to a year.
9) However, the bill does not include provisions like banning of assault weapons, high-capacity magazines, and the sale of AR-15 sales up to two years.
10) If Scott does not veto the bill, then it will become the first successful gun control measure in Florida in the past two decades.