As the United States is gripped by fear and agony post the Florida school shooting massacre on February 14, President Donald Trump has now endorsed the idea of arming teachers to enhance safety in school after hearing innumerable pleas from students and parents on reforming gun laws.
"If you had a teacher who was adept with the firearm, they could end the attack very quickly," Trump said during a televised event in White House on Wednesday. The event was also attended by the families and friends of the victims of shooting at the Florida school.
He claims that by arming the teachers who are 'adept at handling guns', it would stop all the 'maniacs' and 'cowards' from attacking schools in the future.
"This would be obviously only for people who were very adept at handling a gun, and it would be, it's called concealed carry, where a teacher would have a concealed gun on them. They'd go for special training and they would be there and you would no longer have a gun-free zone," Trump said while speaking on gun reforms.
He further added, "Gun-free zone to a maniac -- because they're all cowards -- a gun-free zone is 'let's go in and let's attack because bullets aren't coming back at us."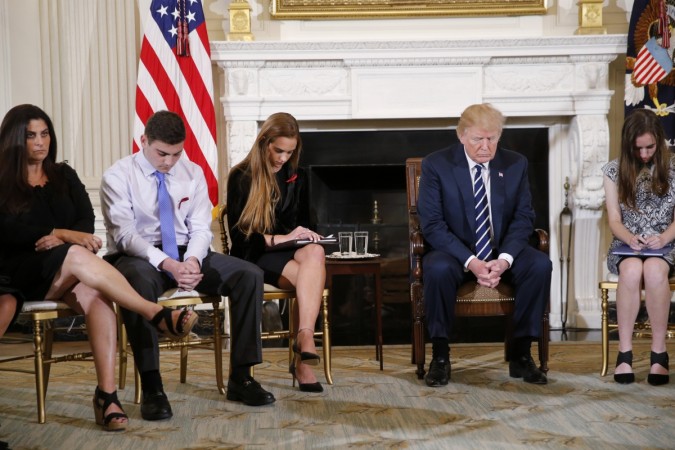 Apart from endorsing this idea during the one-hour-long event, Trump also said that it is important to have more mental institutions and hospitals to house worrisome teenagers.
He appreciated the bravery of Aaron Feis, the football coach at the Marjory Stoneman Douglas High School in Parkland, who died while using his body as a shield to protect students from the barrage of gunfire.
The President, while suggesting arming teachers as a defense against future attacks, said, "If the coach had a firearm in his locker when he ran at this guy – that coach was very brave, saved a lot of lives, I suspect. But if he had a firearm, he wouldn't have had to run, he would have shot him, and that would have been the end of it."
However, Donald Trump in May 2016 tweeted: "Crooked Hillary [Clinton] said that I want guns brought into the school classroom. Wrong!"
Crooked Hillary said that I want guns brought into the school classroom. Wrong!

— Donald J. Trump (@realDonaldTrump) May 22, 2016