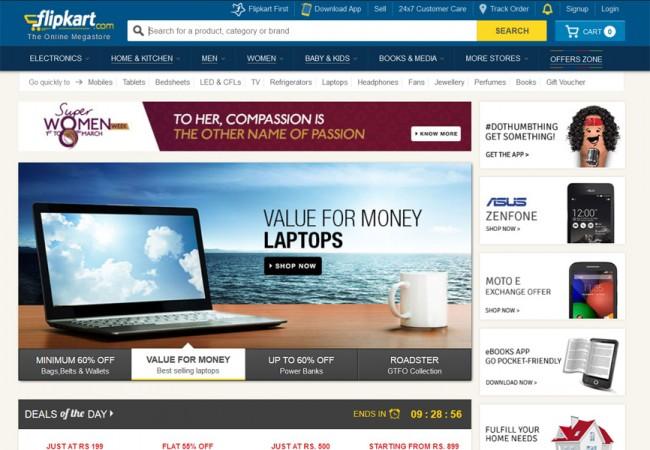 It's achche din (good days) for senior executives eager to switch jobs, as e-commerce companies are likely to recruit about 500 executives with an annual pay package in excess of Rs 1 crore.
Flush with funds from institutional investors, firms such as Flipkart, Amazon, Snapdeal and other e-commerce players are keen to hire talent to keep pace with the boom in the sector and get high valuations for their companies when they go for initial public offerings (IPOs).
The hiring projections have been made by five head hunters including RGF Executive Search, Longhouse Consulting and ABC Consultants, according to a report in The Economic Times.
Most of the hiring is likely to take place in Flipkart, Amazon and Snapdeal.
Ola, Uber, Quikr, CommonFloor, Yepme, OLX, Junglee, FashionAndYou, Hungama, BookMyShow, Jabong, Cleartrip and Lenskart are the other companies that are expected to roll out such lucrative offers.
In the past six months, Delhi-based ABC Consultants has been hunting for about 100 senior-level executives for online retailing firms, according to its director Siddharth Raisurana.
Longhouse Consulting is witnessing similar demand for top executives.
"We have 70-80% of our business coming from ecommerce and expect to handle 180-200 mandates this year, up from 75-85 last year," Anshuman Das, managing partner, Longhouse Consulting, told the daily.
"We are filling in at least one position a day at the leadership level," said GC Jayaprakash, executive director at RGF Executive Search.
The e-commerce firms see such executives as wealth creators who will enable the firms get better valuations during IPOs and therefore willing to 'pay a premium' to them, according to Jayaprakash.
The hiring spree is also an outcome of funding these companies have been getting in the recent past.
"Investors are bringing hundreds of millions of dollars. We can spend it either on infrastructure or people. And that's what they are doing - investing in people," the daily quoted a HR head of one of the top online retailers as saying.
The crore-plus package is the total cost to company (CTC), of which 30 percent would be in the form of stocks and employee stock options (ESOPs).
Leadership hiring at India's second largest e-commerce firm Snapdeal has increased due to fast growth in business, according to Saurabh Nigam, VP, HR at Snapdeal.
"We're a 5,000 people strong team now, and need to beef up our leadership hiring," he added.
Recently, Snapdeal granted stock options to 1,200 employees to recognize their contribution to its success and retain them.
Overall, online retailers are likely to roll out nearly 1,000 offers for senior level posts this year compared to 250-300 last year, with half of them getting paid Rs 1 crore or above.
"Senior-level hiring has definitely seen an uptick. We would have hired about 7 positions six months ago. In this quarter alone, we are looking at closing 7-8 positions. The business is growing and we need senior talent for roles like sales, products and technology," said Anupama Beri, HR head, MagicBricks, who was former HR head at Snapdeal.