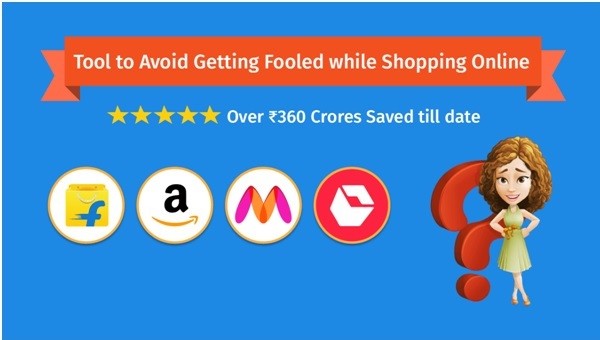 Online shopping sites like Flipkart, Amazon and Snapdeal do over 40% of their sales via big sale events like big billion day or great indian sale or other sales that they keep launching from time to time. It's mind numbing, the kind of offers that are splashed all around us. But there are huge mistakes consumers do while shopping during these sales and pay a hefty price for the ignorance. If the urge for shopping during Sale is combined with some smart decisions, you will definitely ace it all -be it shopping on flipkart, amazon, snapdeal or any website for that matter.
You can end up losing a lot of money if you do not pay heed to these smart shopping tips this Diwali and for shopping in general on sites like flipkart, amazon, snapdeal and others.
To get comparison tool click here
For case in point check this
2nd day of Flipkart Big billion day:The price of the product was raised from 710 to 1520 a day before the sale and then it was being advertised as there is a 20% sale offer on Flipkart.
To get comparison tool click here
Here's the checklist:
Introspect: Don't randomly buy products which come on Sale and are showcased as Blockbuster deals.Always ask yourself the three questions
Why are you buying it? Do you really need it ?
If you do is it really the best deal or a fake deal.
Now the first one you would have to ask yourself. But for the second one there is help. There are some smart shopping tools you should use. Buyhatke tool tops that list. Its an absolute favorite for a lot of users and a superb tool for shopping during sale seasons. It helps you with 4 simple things
On site Price comparison
Price drop alerts
Price variation trends
Best coupon codes.
Checkout the video below to know how you can avoid mistakes while shopping using smart shopping tools like buyhatke
To get comparison tool click here
Prepare your wishlist: Only keep things you really need and desire, this will keep you away from unwanted splurge and useless clutter at home. And set price drop alerts. Tools like Buyhatke have a feature which help you quickly set a price drop alert with just one click and you would get notified whenever the price of the product drops. Here is an example of a price drop alert set on Flipkart for Apple iPhone 6s

To get comparison tool click here
You can get notifications on desktop like this which would intimate you of price drops on favourite products on sites like flipkart, amazon, snapdeal and others.
Why do you need this ? Shopping during sales is tricky, with luring deals and offers flashing in front of your eyes your impulse takes control of you. Research on products before buying is a must, and Buyhatke does it all for you. On an average a smart shopper who uses better shopping techniques saves over 25% on his shopping and saves 20% more time as compared to a shopper who does not use them and are 30% more happier.
Never place your bet on one when you have so many options to choose from specially with so much competition between e commerce companies like flipkart, amazon, snapdeal, this is our chance to make the most of it. Always compare prices, just because one site is claiming to offer the best discounts you need not rely solely on that.
To get comparison tool click here
Always keep your eyes wide open and check the return, exchange and cancellation policy before checking out. Specially beauty and personal products have no return policy, so be sure of the seller ratings, product ratings and reviews before placing your order. So check the return and cancellation policy of flipkart, amazon before placing the order. The return policy, at times are changed during sale days.
Do not fall prey of hoax discounts, check for yourself before purchasing.
Let us take an example, FIFA16 - Digital Download is available at Rs 2,340 during BBD on flipkart at 41% off , if you look at its price graph you can see that the price was jacked up just before the Flipkart Sale, and that it was mostly available at a lower price. Only if this would have appealed as a great offer to you, you would have ended up with great loss. So ensure you check price variation trends of products. And buyhatke extension helps you do that for about every product sold online.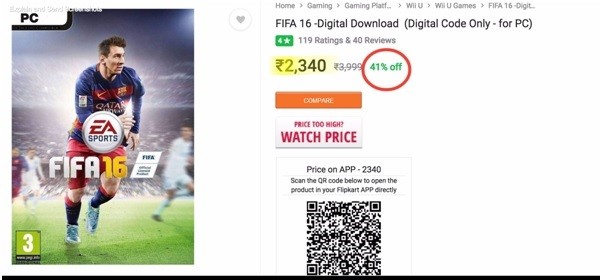 To get comparison tool click here
Never hesitate to try other options, checkout deals from the same category and opt for the best offer. Sometimes you might not be specific for having a product from a particular brand at that time.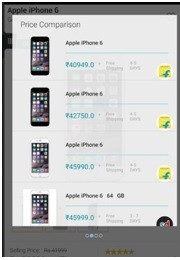 To get comparison app click here
Although desktop is more convenient and user friendly, check for offers on app. Sometimes there is even a further discount on apps, be sure not to miss it. Use things like Shopping Assistant while shopping from mobile apps to use all the smart shopping features even on mobile. The shopping assistant compares prices, shows price variation trends even inside mobile apps.
To get comparison app click here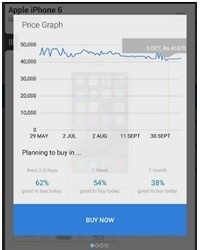 Some extra discount at checkout has never harmed anyone.All shopping sites have discount coupons which helps us save some extra buck. Applying coupons has never been easier. With tools like Buyhatke, just a click and the best coupon gets applied automatically giving you the maximum discount.
Many sellers on Flipkart and Amazon are trying to sell fake, duplicate products at discounted prices.Ensure that you check the seller ratings before purchasing.
Ratings and reviews are also being altered on the showcased deals on different websites for luring much sale, recheck the specifications of the desired products on the official website for true and unaltered information.
Store your payment details and update your address for a hassle free checkout experience. Because some deals go out of stock quickly, especially on Flipkart.
Replace old with new - Look for exchange offers. There are some exciting offers on big billion day on flipkart on electronics as a category. But always ensure you do your research while doing it.