India's biggest online retailer Flipkart seeks to pump in a lot of money to build Artificial Intelligence (AI) and machine learning (ML) solutions which will help the firm to improve shopper experience, minimize product delivery time and come up with faster solutions for customer complaints.
The aggressive push to build AI platform will also require the firm to hire more people having experience in data science and critical skills to handle high-end technology.
"We are ending 2017 on a high after having gained market share. Using AI and ML will lead to us offering much better solutions. AI is the future and the best tool available in the tech space," Sachin Bansal told the Times of India.
AI will be the key focus area of Flipkart in 2018 and the Bengaluru-based firm is already working with Microsoft as a partner for more related projects. Earlier this year, Microsoft had invested in Flipkart after which the e-tailer moved to Microsoft Azure for its cloud infrastructure.
"For external projects, we are partnering with some of the Indian universities. You will also see acquisitions which we will make in this field," added Bansal.
Flipkart funding has been very strong this year. The company closed a mammoth funding round of $1.4 billion from Tencent Holdings Ltd, eBay Inc and Microsoft Corp, in the biggest-ever funding round which boosted the firm's ability to compete with its biggest rival Amazon India.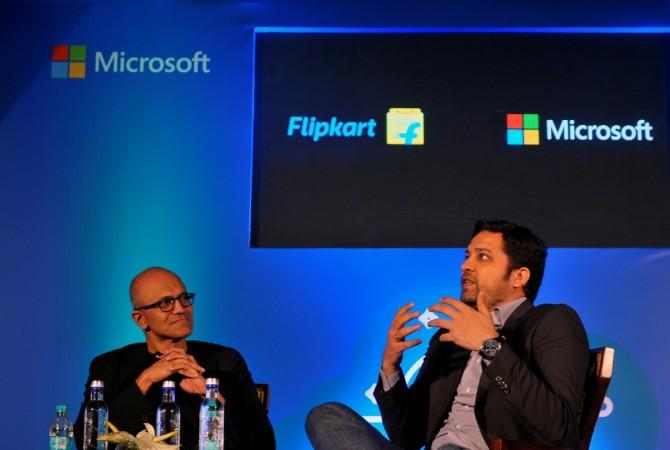 Amazon, however, might be a step ahead of Flipkart in using AI for services. It has already started focusing on using more AI in the Indian markets.
The director of machine learning at Amazon, Rajeev Rastogi said that both MI and AI are being used in several ways to improve customer experience.
For instance, Rastogi said that apart from guiding sellers on categorisation, Amazon with the help of AI also tracks products that have high sales during the festival season in India and based on such factors, it also suggests the best products and deals that can woo customers at that time.
"Advertising is another area where we use machine learning. It helps in showing relevant advertisements and promotions to users based on search queries," said Rastogi.